PERFORMANCE: A London hospital trust has become the worst performing in the country on accident and emergency performance.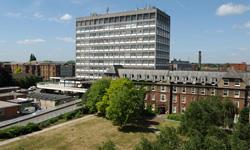 North Middlesex
North Middlesex University Hospital Trust had the worst A&E performance in the country for January, data released by NHS England reveals.
The north east London district general hospital saw 66.4 per cent of patients within four hours in the first month of 2016, the data shows.
The national target is 95 per cent and the performance across the English NHS was 88.7 per cent in the same period.
For quarter three in 2015-16, the trust had achieved 78.5 per cent while the rest of the NHS hit 91.5 per cent.
The trust's commissioners hired consultants McKinsey to look into the problems in the emergency and urgent care system.
The trust's most recent board papers showed a steady decline in performance from September.
HSJ understands the problems were caused by an order from the London Deanery that the junior doctors employed by the trust must be allowed more supervision and time for training with less time spent delivering services.
Source