Plan says "strategic estates partnership" could secure £5m of recurrent income by letting property and managing land use
Trust is seeking approval from Treasury and NHS Improvement
Strategic estates partnerships are being closely watched by ministers as means for delivering NHS capital project
A district general hospital has selected a preferred private sector partner for an ambitious project to develop a "health campus", build up to 385 houses and deliver £5m of recurrent income, HSJ has learned.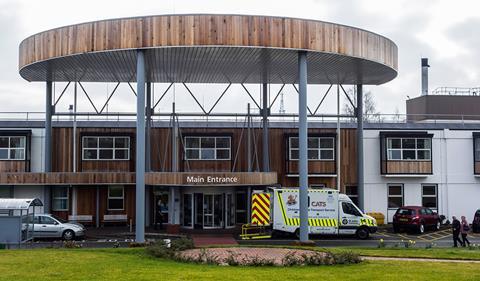 Hinchingbrooke Hospital
Hinchingbrooke Health Care Trust is developing the £150m plan for a strategic estates partnership with healthcare estates specialist Ryhurst, however it still requires sign off from NHS Improvement and the Treasury.
The project is being closely watched by senior NHS and government figures who are hopeful the relatively new SEP model could be rolled out more widely across the NHS as a model for developing capital schemes.
A trust document obtained by HSJ says: "The trust is seeking approval from the authorities to form a joint venture limited liability company with Ryhurst Ltd who have been selected as preferred bidder."
The plan says the "health campus" will integrate primary, secondary, community and social services together with residential and nursing home accommodation.
It suggests a sizeable chunk of the forecast "approximately £5m" income would come through the building, and then running of, residential property and other estates management related and back office service income streams.
It says: "[The SEP would seek to provide] new facilities, improve existing facilities, acquire new land and/or buildings, let existing vacant and temporary surplus buildings, develop facilities for co-location for other organisations and dispose of permanently surplus land and buildings."
The trust submitted an application for permission to demolish outdated staff accommodation at the site and replace it with 385 new flats earlier this year.
Rosemary Jago, a partner at law firm Bevan Brittan, who has advised on a number of SEPs, including Hinchingbrooke's, told HSJ "maximising the value of the NHS estate has become a key requirement" in a period of rising cost pressures and demand.
She said the model could be used to "establish new or refurbished facilities, wider service transformation, creating new efficiencies and generating new income streams" (see box below for more details).
However, other industry sources warned that while the model was "interesting", it was "not a silver bullet" and there was not yet sufficient evidence to back calls for it to be widely rolled out.
A source said the Hinchingbrooke plans were "very unclear about what guarantees [the private sector partner] is putting behind this income materialising, and there has been no risk adjustment of the revenues to reflect the likelihood that they will be achieved".
The business plans also says the SEP is a key plank of the trust's plans to make it clinically and financially sustainable by 2020. The trust is also seeking to merge with nearby Peterborough and Stamford Hospitals Foundation Trust, an announcement on which is due later in the year.
There have been six SEPs formally established to date, the first of which was established by Lancashire Care Foundation Trust with Ryhurst in 2010.
There are others in the pipeline. Oxleas FT published a tender last month seeking a partner for a SEP.
Lance McCarthy, chief executive of Hinchingbrooke, said: "Approval of this scheme is an important stepping stone to supporting the trust's ambitions for realising an innovative and sustainable health campus at Hinchingbrooke Hospital. We see this as an opportunity to create a ground breaking umbrella of care for the people of Huntingdonshire and to keep health and care services local."
Ryhurst managing director Stephen Colllinson said: "NHS trusts across the country are facing unprecedented challenges to provide sustainable public health infrastructure for 21st century demands, whilst upholding the core values of our NHS. Our partnership with Hinchingbrooke will deliver an exciting and intelligent estates strategy that will respond to these challenges and support the trust's long term clinical vision and community health strategy for the benefit of all staff and patients."
What is a strategic estates partnership?
Strategic estate partnerships are a relatively new procurement model whereby a trust forms a joint venture (50/50 ownership) with a private sector partner to re-develop their estate for both clinical and non-clinical use.
The joint venture firstly develops a strategic plan and then there is a delivery phase. This may include new capital schemes like the construction of new facilities or refurbishment, but also strategic estate and service transformation planning including improving efficiencies in facilities management and other services (eg: corporate back office services, patient administration), and providing expertise in surplus asset disposal.
One of the main attractions of the model for the NHS is its flexibility and lack of "exclusivity" granted to the private sector partner. This means the private sector partner selected for the planning phase is not automatically guaranteed to get the contract to deliver those plans, which is subject to approval by the trust on a project by project basis and value for money assessment. Any construction or facilities management package will also be subject to a separate tender process to drive value for money.
Therefore the venture relies upon commercial incentives and the governance structure for the parties to work in genuine partnership. The lack of exclusivity also ensures that the joint venture is incentivised to continuously demonstrate and provide value for money.
One of the key features of the venture is to identify the right contractor, contractual structure and funding arrangements for the delivery of each new capital project or service transformation, to ensure value for money.
A rolling partnership business plan identifies short, medium and longer term strategic priorities for the joint venture to ensure that as the clinical strategy of the trust evolves, and in support of wider commissioning plans and healthcare integration, the venture flexibly adapts to change at pace to deliver and drive forward estate proposals to drive and maximise value from the estate holistically.
Rosemary Jago is a partner whose advises on major projects at law firm Bevan Brittan
Source
Information obtained by HSJ
Source date
13 September 2016