Hospital run for three years by private company taken out of special measures after it was handed back to full NHS control last year
CQC rates Hinchingbrooke Health Care Trust good overall
Emergency department rated requires improvement
PERFORMANCE: The district general hospital run for three years by a private company is to exit special measures after being rated good by the CQC, just over a year after it was handed back to full NHS control.
Hinchingbrooke Health Care Trust was rated "good" overall in its latest Care Quality Commission inspection, up from the "requires improvement" rating it was given in April 2015. It was rated "good" in terms of being safe, effective, caring, responsive and well led.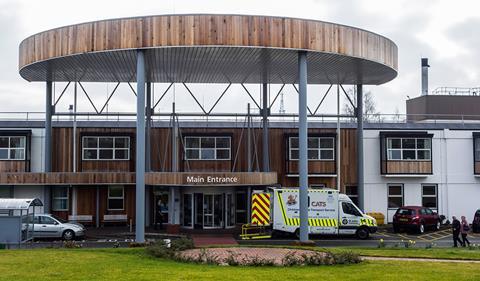 Inspectors said they found some "outstanding practice" at the trust and they congratulated the staff and leadership for "addressing problems found in previous inspections", which "made a real difference" to care quality.
However, the trust's emergency department was rated "requires improvement", in a move which will stoke the debate about its future sustainability.
The hospital was rated inadequate and put in special measures in January 2015 while Circle ran the trust. The controversial rating was however upgraded to "requires improvement" just three months later in April 2015. Circle took over under a controversial 10-year franchise agreement in February 2012.
HSJ revealed several months before the inadequate rating was announced that the CQC had raised serious concerns with the trust about care quality, management and its culture.
The regulator's concerns were raised in a confidential letter setting out allegations of patients being treated in an "undignified and emotionally abusive manner"; hygiene failures; staffing problems; and "a blame approach" to management.
Circle pulled out of the contract in the same month the inspection was published. It said at time that the trust did not have "a sustainable future in its existing form" and demand pressures had increased to unprecedented levels. The trust was officially put back under NHS control in April 2015.
Hinchingbrooke chief executive Lance McCarthy replaced Hisham Abdel-Rahman in September, and chair Alan Burns was appointed in March 2015 to replace Mike Burrows.
The rating and exiting special measures is a major boost for the trust, which has a long history of financial and clinical sustainability issues. It is also drawing up plans for a proposed merger with Peterborough and Stamford Hospitals Foundation Trust by April 2017.
CQC deputy chief inspector of hospitals Edward Baker said: "Our return to Hinchingbrooke Health Care Trust showed significant improvements had been made. This is reflected in the trust being rated as good and our recommendation to NHS Improvement that the trust now comes out of special measures.
"This trust's journey of improvement, from being rated inadequate to now, serves as a positive example for other trusts and its staff and leadership should be proud of their achievement.
"We congratulate the staff and the leadership for the effort they have put in to address the problems we found on our previous inspections. This has made a real difference to the quality of care patients receive.
"There remain some areas for improvement and we have recommended that the trust continues to receive support to enable it to make these. The trust leadership knows what it must do now to ensure further positive change takes place. We will continue to monitor the trust and this will include further inspections."
The provider's finances remain strained. It has agreed a control total of £13.8m deficit for 2016-17. This remains broadly in line with the £14m deficit position the trust posted in 2014-15, the last year private provider Circle was in charge of the trust.
Source date
11 August 2016
Hinchingbrooke chair: Ditching Circle management structure key to turnaround
1

2

Currently reading

Former franchise trust to exit special measures