Hinchingbrooke's £150m strategic estates partnership plan under review
Plan involves bringing different care providers and housing on to hospital site
Trust chief executive raises value money concerns including around land sale
Hinchingbrooke Hospital's ambitious £150m "health campus" plans have been put under review.
The financially challenged hospital's new bosses concluded the former trust's key proposal to make itself sustainable did not offer "value for money".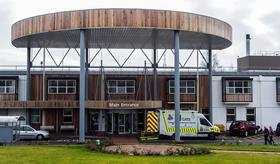 The hospital's former leadership set up the strategic estates partnership with private developers last year as part of a project to make the small district general hospital sustainable.
It said the "health campus" would integrate primary, secondary, community and social services together on the site with 385 homes, and would generate £5m of revenue a year.
But the hospital's leadership changed after Hinchingbrooke Health Care Trust merged with Peterborough and Stamford Hospitals Foundation Trust in April to create North West Anglia Foundation Trust.
North West Anglia chief executive Stephen Graves, formerly chief executive of PSH, wrote in his report to the trust's July board meeting: "We haven't progressed as far as I had hoped with the strategic estates partnership…
"The original plan to sell the car park at the front of the site for houses and then replace the car parking is not value for money… It would be wrong to sell a potentially strategically important piece of land [at the moment]."
Plans to move existing facilities, including wards, the learning centre, crèche, offices and shops on to the Hinchingbrooke site to enable new development would require capital investment, which would be "challenging" in the "present" financial climate, he said.
Mr Graves added: "There also needs to be a more detailed evaluation of the [value for money case] of replacing or refurbishing the current staff accommodation. This work is important because the feedback is that the quality of this accommodation is poor. Both of the above items are a key part of the plan as they provide the space for the new developments onsite."
Hinchingbrooke named healthcare estates specialist Ryhurst as its partner for its ambitious project last year. It was a key part of the trusts' merger business case, published in November. The business case said: "The strategic estates partnership makes a significant contribution to delivering the [Hinchingbrooke] cost improvement plan. For the following four years, [Hinchingbrooke] plans to deliver above national average CIP of just under 5 per cent."
The hospital would make £10.5m of cost improvement plan savings over the next two years "through procurement efficiency, reduction in staff cost and income growth", the business case said.
The original plan said "approximately £5m" of income would come through the building and running of residential property, and other estates management related and back office service income streams.