Manchester City Council chief executive Sir Howard Bernstein is to retire next spring after almost 20 years in the role.
Sir Howard was instrumental in securing Greater Manchester's devolution deal for health and social care in 2015, and leads the region's sustainability and transformation plan.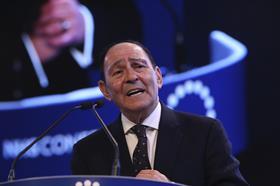 His departure is likely to increase the influence of Jon Rouse, the recently appointed chief officer for the health and social care devolution project.
Sir Howard joined the council as a junior clerk in 1971 and became chief executive in 1998.
He said: "It has been a privilege to serve the city during such a pivotal period, working with many excellent people both within the council and in public and private partner organisations. I'm incredibly proud of what the city has been able to achieve in this time and to have played a part in it.
"Manchester is firmly established as a confident and dynamic place, recognised as a premier league world city although of course there are still significant challenges to address to ensure everyone who live here has the opportunity to share in, and contribute to, its growing success."
Council leader Sir Richard Leese said: "Sir Howard is widely recognised as one of the great local government chief executives. Having someone of his talent, vision and drive dedicate his career to the city has been an undoubted plus for Manchester. Working with him over many years, addressing challenges and attempting to capture opportunities for the city, has been a pleasure.
Sir Howard played a central role in the city's regeneration and economic growth, including serving from 1996-1999 as the chief executive of Manchester Millennium, which oversaw the transformation of the city centre in the aftermath of the 1996 IRA bombing.
He was also instrumental in securing Manchester's hosting of the 2002 Commonwealth Games and helped to create the Greater Manchester Combined Authority in 2011.
Sir Richard said Manchester's personnel committee would soon start the process of recruiting a new chief executive, who would have to be "someone with the strategic vision, innovative ideas, partnership working skills and gravitas to help lead Manchester forwards into an exciting new phase".
Source date
15 September 2016