Northamptonshire County Council looks to axe £650,000 from joint NHS discharge project
Council also plans £4m of cuts to adult social care and a review of menta health services for children
Cabinet papers reveal Treasury advised "self-help" under the government's austerity drive
A county council struggling to make £60m of savings in 2016-17 is planning to scrap funding for a joint discharge project with local NHS hospitals, it has emerged.
Northamptonshire County Council is planning an emergency cabinet meeting on Monday evening where it will propose a string of cuts to services including £650,000 from its discharge project delivered with Northampton General Hospital Trust and Kettering General Hospital Foundation Trust.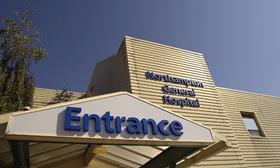 It has also made plans to cut adult social care, with £4m saved by reviewing assessment and rehabilitation services.
It is also planning to review the provision of mental health services for children.
One member of staff at Northampton General Hospital told HSJ the discharge service was essential to help maintain patient flow through the trust.
They said: "On a day to day basis we have enormous numbers of people who can't leave because there is nowhere else for them to go. We are already in a really difficult position and this can only make that worse as we head into winter.
"As much as it is frustrating for us the council are in an incredibly difficult position."
A paper due to be discussed by councillors warns £8.6m of the £65m savings the council needs to make in 2016-17 were at high risk of not being achieved with a further £26m also in doubt.
As a result Northamptonshire has identified alternative savings of £9.8m in adult social care and £10.7m in children's services. Without this action the council is forecasting the £204m adult services budget will be overspent by £13.7m by the end of the year while the £154m children's services budget would be exceeded by £16m.
The cabinet paper said the council had discussed its challenging circumstances "with central government on many occasions, including detailed submissions to Treasury". However, the message from ministers was that the position "will not be redressed outside of 'self-help' within the county, given the overall austerity agenda".
The council's chief executive Paul Blantern told HSJ's sister title the Local Government Chronicle that the authority could not afford to use any more reserve to support spending.
He highlighted the council had already found just under half of its savings for the year. However, demand pressures and the failure of some anticipated income to materialise, including £5.4m of the NHS's contribution to the better care fund, meant further spending reductions needed to be found.
"If we have one less pound to spend then we have to respond… This is positive action taken by responsible public servants," he said.
Deborah Needham, deputy chief executive at Northampton General Hospital Trust, said: "We will be reviewing the council's proposals in detail with our local healthcare partners so we can fully understand the impact for our patients and the services we provide.
"We will be alerting the cabinet to the potential implications of the proposed budgetary changes to health and social care provision within the county."
Kettering General Hospital chief executive David Sissling said his trust would be "extremely concerned about any proposals which have a negative impact on the quality of care and support provided to local people".
Source
Information supplied to HSJ