Northamptonshire STP partners formally agree to "trust" each other and "do what we say we will do"
STP board members agree not to display "unhelpful" behaviours such as seeking to "blame each other"
Partnership was one of four labelled "in need of improvement" by NHS England
A struggling sustainability and transformation partnership has created a list of "helpful" and "unhelpful" behaviours for its board members and plans to hold a "reconciliation event" for system leaders.
Nene Clinical Commissioning Group's April governing body papers revealed that the Northamptonshire STP board has promised to "trust" each other and "do what we say we will do".
The STP was one of four rated "in need of improvement" by NHS England last summer.
The STP board said there was a "need for a set of agreed principles, values and behaviours" that "overrides all individual or organisational self-interest".
The resulting "values" document, approved by board members, said they should not display "behaviours that are considered to be unhelpful". These include:
sending "critical and unhelpful emails";
speaking up in meetings to "then voice critical views outside of meetings";
seeking to "undermine decisions and ignore them or try and get them changed";
looking "after ourselves and distancing ourselves from any trouble"; and
focusing "only on the negatives and blaming each other".
Poor behaviour will be monitored by the STP chair and the chairs of the organisations in the STP. Every three months, they will "review progress on the adherence to the agreed principles" and produce a biannual report for the board about how well the partnership is sticking to its promises.
The papers also confirmed the board will hold a "2-3 day reconciliation event" in quarter two of 2018-19 for its system leaders. An STP spokeswoman said the event was about "reconciling how [works streams] fit together".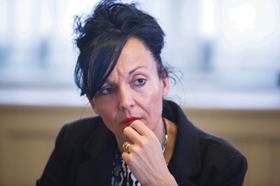 Shortly after the STP was criticised by NHSE last year, the chief executive of Northamptonshire Healthcare Foundation Trust, Angela Hillery, took over as STP lead. She oversaw a "reset" of the original plan as it would not deliver financial or clinical sustainability.
A new governance framework was developed in December, which the April board report said "represents a major change in how we work together. We know it will not be easy and it will take time to get it right."
The area intends to develop a new system-wide plan by June, including a strategy for financial recovery, workforce and a unified acute model for the area. It hopes to begin implementation from quarter three of 2018-19.
Ahead of this, the board has changed the name of the STP to Northamptonshire Health and Care Partnership. It said: "In order to embed this new name, a new logo and 'house style' will be rolled out and a supporting communications package put in place."
The spokeswoman added: "Our collective organisations joined together and engaged with colleagues to discuss our ongoing and future priorities. It was agreed that at the root of any effective partnership, clarity around collaborative principles, values and behaviours is the enabler to achieving successful outcomes together.
"In keeping with other systems that have agreements about working together, our partnership's collaborative principles, values and behaviours were developed. As part of our good practice in developing these, we have considered and given examples of types of behaviours to help bring clarity to our aims."
The partnership involves: Nene and Corby CCGs; Northamptonshire Healthcare FT; Kettering General Hospital FT; and Northampton General Hospital Trust.
Source
Governing body papers; STP statement
Source date
April/May 2018