Northampton General Hospital Trust declares highest level of A&E and capacity for three days in a row
Trust started sending medically fit for discharge patients to care homes in January
A district general hospital is under "extreme pressure" in accident and emergency and has declared the highest level of alert for three days, HSJ can reveal.
A Northampton General Hospital Trust spokeswoman said the trust was today at operating pressures escalation level four and had been for the past three days.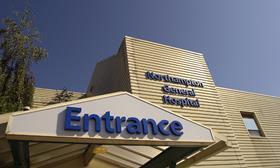 OPEL four is the highest level of alert in the national alert system set up by NHS England. The national commissioning body faced criticism at the start of winter for no longer publishing which trusts were at which OPEL level.
A trust spokeswoman said the organisation was under "extreme pressure".
The NHS England criteria for declaring OPEL four include there being "no capacity across the trust, severe ambulance handover delays, emergency care pathway significantly compromised" or being "unable to offload ambulances within 120 minutes".
The A&E data for February, released today, showed the trust's overall A&E performance at 78 per cent against the national 95 per cent four hour target.
Data on ambulances waiting more than an hour to handover a patient to A&E showed 201 such delays at Northampton General Hospital from 20 November to 4 March.
The trust will have to contribute to a system-wide root cause analysis when it steps down from OPEL four.
In January, the trust said it would "arrange temporary placements for patients who are medically fit to leave hospital but are waiting for a care package".
In a statement today it said: "We are doing this because we have many more people than usual coming to A&E for care and treatment, many of whom need admitting onto a ward. We also have people who are waiting on wards to move into a residential or nursing home or for a package of care in their own home but who no longer need the level of care a hospital provides."
The trust said it had "been planning for a difficult time this winter and those plans have all been put in place but the measures have not been sufficient".
It received NHS England winter pressures funding for the care home placements.
A&E performance hits all time low after 'most pressured month ever'
1

2

Currently reading

Trust declares highest A&E alert level for three days in a row