Northumbria Healthcare Foundation Trust to reduce opening hours at three urgent care centres
Wansbeck, Hexham and North Tyneside hours to go from 24/7 to 8am to midnight
Trust says this will allow it to redeploy nurses to the busier Northumbria Specialist Emergency Care Hospital
One of the country's major foundation trusts is temporarily reducing the opening hours of three of its urgent care centres to redeploy nursing staff to its specialist emergency care hospital over winter.
Northumbria Healthcare FT will change the opening times of the centres at Hexham, North Tyneside and Wansbeck general hospitals from 24 to 16 hours a night from 1 December.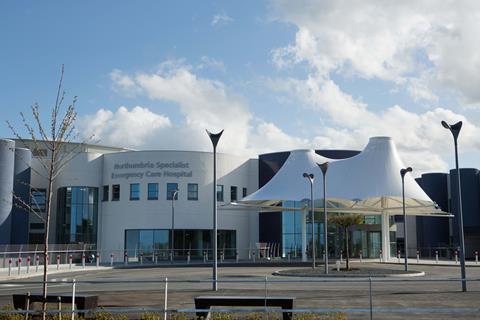 The trust's leaders said the 8am to midnight opening hours are part of its winter resilience planning so highly trained nursing staff can be moved to the Northumbria Specialist Emergency Care Hospital, where there is the most patient demand.
The three general hospitals had their emergency departments downgraded to urgent care centres when the new site opened last June. The new centre in Cramlington has had a surge in attendances but has managed to reduce emergency admissions by 14 per cent.
The trust said the three urgent care centres see an average of 10 patients overnight between midnight and 8am each day, there can be more than 40 during the same hours at the Cramlington site.
The trust, which is rated outstanding, also said there have been 114 days when no patients had attended one of the three urgent care centres overnight between July 2015 and October 2016.
Urgent care centre nursing staff will be redeployed to the new hospital to support the overnight teams, with rotas adjusted for the next three months.
Executive medical director Jeremy Rushmer said: "The numbers of attendees overnight at our urgent care centres has been very small since we made our emergency care changes over a year ago and we know that there are other safe out of hours arrangements available for patients, via NHS 111, should people in Hexham, North Tyneside or the Wansbeck areas need to speak to a medical professional during the night.
"I am keen to stress that this is a temporary measure to see us through the winter period and means we can maximise the skills of our nurses by putting them into practice where there is most demand."
From July 2015 to October 2016, 948 patients attended the Hexham urgent care centre between midnight and 8am, an average of 1.9 a night. This rose to 1,750 at Wansbeck with an average of 3.6 a night and 1,997 at North Tyneside with an average of 4.1 a night.
During the same period there were 83 nights at Hexham where no patients attended between midnight and 8am, with 19 similar nights at Wansbeck and 12 at North Tyneside.
The trust is holding meetings with staff and their representatives to make sure they are redeployed appropriately based on their personal circumstances and ability to travel.
Any patients in North Tyneside, Wansbeck and Hexham who needs urgent care overnight when it is not a life threatening emergency will be told to call NHS 111. The Northern Doctors Urgent Care service will continue to use all three urgent care centres as their out of hours bases if an urgent face to face GP consultation is required overnight.
Source date
22 November 2016