Coroner says doctors attempted to "disguise" delays to appointments
Delays played a "clear and direct part" in patient's death, coroner concludes
Nottingham University Hospitals Trust says its systems have been improved
Months of delays at one of the country's largest teaching trusts "contributed directly" to the death of a woman needing life saving surgery, a coroner has concluded.
Clinicians at Nottingham University Hospitals Trust were also accused of "an attempt to disguise the real reasons for this delay". The coroner said there had been an attempt to try and blame a supplier company in statements produced for the inquest.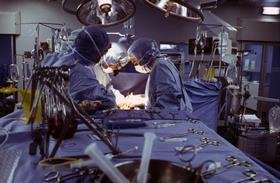 Sheila Stokes died in January 2016, aged 83, after a dangerously large abdominal aortic aneurysm ruptured. She had been waiting for surgery to treat the condition since July 2015.
A report by Nottinghamshire assistant coroner Heidi Connor, following an inquest into Ms Stokes' death, criticised the trust for unnecessary delays after she was referred by her GP in July 2015. Ms Stokes experienced difficulties getting appointments, did not have a CT scan until September 2015, and doctors delayed discussing and arranging the next steps for her treatment.
The coroner said the manufacturer of a specialist graft for Ms Stokes was not at fault and had tried to chase consultants at the trust for the go-ahead to produce the graft weeks before Ms Stokes died.
The coroner's report said: "On its kindest interpretation, there has been a complete failure to recognise key areas of delay and administrative errors. On a less kind interpretation, there has been an attempt to disguise the real reasons for this delay. This concerns me greatly, taking into account the trust's duty of candour and the responsibility of clinicians to assist coroners in their enquiries.
"No mention has been made of delay by the trust, even after Ms Stokes' death – in morbidity and mortality meeting minutes, or in statements and documents produced for this investigation. The tenor of statements clearly cites manufacturer delay as the central issue."
Ms Stokes was diagnosed with the aneurysm in July 2015 and was given an urgent referral that month to see Nottingham hospital vascular surgeons based at King's Mill Hospital, which is run by Sherwood Forest Hospitals Foundation Trust. The inquest heard she did not attend and her family said no referral letter was sent to them. The trust could not provide evidence the letter was sent and did not follow up with her GP.
After being seen in September 2015, a CT scan was requested but despite an alert from radiologists the coroner said "there was no evidence that this was received or acted upon by the vascular surgery team."
Doctors did not meet to discuss her case until October 2015, where the decision was made that a special graft would be needed.
On 30 December 2015, Ms Stokes' family raised concerns over the delays but it was not until 11 January 2016 that Cook Ltd were asked by the trust to create the graft. Ms Stokes died a few weeks later.
Ms Connor said she was concerned at the wording of letters and emails that said Ms Stokes' family had been told the need to create a special graft was the reason for the delays. She said by the time these messages were sent, Ms Stokes had been waiting five and a half months and a decision to source a custom-made graft was made two and a half months earlier.
The coroner said if Cook Ltd had been given approval any time up to 2 November 2015 then Ms Stokes would "have undergone surgery and survived".
She added: "The extent of delay by the hospital in this case is stark, and it is clear that this has played a clear and direct part in Ms Stokes' death."
NUH chief executive Peter Homa said the trust was sorry for what happened: "Our tracking of preparations for planned surgery was poor, and the result was that we did not realise this was taking longer than it should. There was a six month delay, of which three or four months should have been avoided. We are profoundly saddened that Ms Stokes died of a complication of the diagnosis, which would likely have been avoided had surgery been undertaken.
"We have strengthened our systems of ordering stents and tracking patients to surgery to reduce the likelihood that this could happen again. We are working with our consultants to ensure that the coroner receives the most helpful and fulsome accounts."
A spokeswoman for Sherwood Forest Hospitals said its vascular services had been provided by the NUH since 2011. She added: "We are truly sorry that Ms Stokes experienced difficulties in rearranging her appointment in July. We have since undergone a major overhaul to our outpatient services, resulting in stepped improvements that were recognised by the Care Quality Commission in 2016."
Source
Coroners' report and trust statements