The Greater Nottingham health economy declared a "business continuity incident" yesterday over a lack of beds in community services, which impacted discharges from Nottingham University Hospital Trust.
A message to NUH staff yesterday, seen by HSJ, said: "Following an extraordinary meeting with system providers, a business continuity incident has been declared across the Greater Nottingham system (including NUH) due to extremely limited flow and low numbers of planned discharges to meet the demand in our services."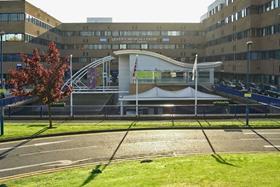 The managing director of the Nottingham and Nottinghamshire sustainability and transformation partnership, Wendy Saviour, said the region was under "significant pressure" from the number of patients with flu.
Staff at NUH told HSJ that an email update said the trust had seen 20 flu cases a day, including patients being admitted to intensive care. The trust confirmed it had 396 flu cases in recent weeks.
Ms Saviour said 75 additional community beds had been opened with 45 more due to be available in the coming days.
Another message to NUH staff yesterday evening said: "The hard work and partnership working across the health and social care system has helped us go into the evening in a slightly improved situation. Twenty additional community beds were opened today, with a further 55 beds coming online in the days to come with additional beds identified if needed.
"However, flow remains poor and significant challenges remain."
The incident was stood down today and has now returned to the opel 3 level of pressure.
Staff have been told to try to identify patients who can be discharged and to alert families that their relatives may be discharged somewhere different to what they were expecting. Staff have also been asked to prepare medication and transport arrangements early.
In a statement to HSJ, Ms Saviour, said: "The health and social care system across Nottinghamshire has been under significant pressure post-Christmas following an increase in the number of seriously unwell patients and confirmed cases of flu.
"The Greater Nottingham system [on 17 January] declared a business continuity incident and is taking further actions as a result of this so that extraordinary actions can, and are, taken to restore flow, ensure patient safety and maximise discharges for those ready to leave hospital.
"Seventy-five additional beds have opened in the community and a further 45 will be available in the days to come. All partners continue to prioritise emergency, urgent and cancer care. Additional appointments will be available during evenings and weekends in some GP surgeries.
"Staff across health and social care are working over and above to keep patients safe."
Source
Information provided to HSJ
Source date
17 January 2018