Tracy Taylor to lead the £900m turnover Nottingham University Hospitals Trust
She takes over from Peter Homa who has led NUH for 11 years
Tracy Taylor is a registered nurse and has worked in NHS for more than 30 years
Tracy Taylor has been appointed as the new chief executive of one of the country's largest teaching hospitals. 
Ms Taylor, who started her career as a nurse, will take over at Nottingham University Hospitals Trust from Peter Homa, who is set to retire later this year after 11 years leading the trust. NUH employs more than 15,000 staff and has an annual turnover of more than £900m.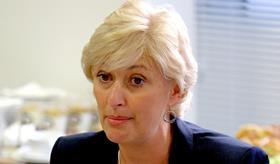 As current chief executive of Birmingham Community Healthcare Foundation Trust and Black Country Partnership FT, Ms Taylor was expected to lead the trusts into a merger with Dudley and Walsall Mental Health Trust later this year.
She will take up the role at NUH in the autumn with the exact date to be confirmed.
She has worked in the NHS for more than 30 years having trained as a nurse in Birmingham, before taking on management roles.
Ms Taylor said: "I am both delighted and proud to be appointed as NUH's next chief executive. The trust has dedicated staff, delivering excellent care. Through even closer working with our key system partners, I am confident that together we will create a very bright future for healthcare in Nottinghamshire. I look forward to joining the trust later in the year, meeting staff and system partners and leading NUH in its journey from good to outstanding."
She joins NUH at a time when the trust has warned its staff it faces one of its toughest years with a major financial challenge.
The trust achieved its £22m control total deficit at the end of 2016-17 and achieved £41.5m of savings against a target of £45m.
NUH has a three year plan, including last year, to return to financial balance.
A planned merger with Sherwood Forest Hospitals FT collapsed last year and the Nottinghamshire sustainability and transformation plan includes the removal of 200 hospital beds within 18 months.
Ms Taylor remains a registered nurse, health visitor and school nurse, and makes time each week to visit staff at frontline services.
She previously worked at Birmingham East and North Primary Care Trust and before that was senior general manager for elderly medicine and emergency services at Good Hope Hospital Trust.
She has been named in HSJ's annual top chief executives list four times.
Source
Information provided to HSJ