Nottingham University Hospitals Trust has been warned 13 services could be decommissioned
CCGs want to redesign the model for another 17 services
Commissioners say the changes are to be completed by July
One of the largest acute trusts in the country faces 13 services being decommissioned and 17 being redesigned by July, a leaked document has revealed.
Clinical commissioning groups in Nottinghamshire have drawn up the changes to deliver "a seismic shift in delivery of care" in line with the county's sustainability and transformation plan, the document said.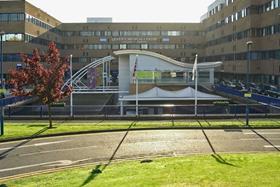 All the affected services (see box below) are outside the national tariff payment system, which means the price for activity can be set locally by CCGs. Commissioners told HSJ the changes were part of implementing the STP to improve community based case and integrate health and social care services.
A message to staff at Nottingham University Hospitals Trust last week, seen by HSJ, said the trust had been notified by the CCGs that services would be re-tendered next year.
It said: "This means that some services may not continue in their current form, or if 'de-commissioned', may not run at NUH at all.
"The services will be affected from July 2017, with the exception of the stroke rehabilitation service and early discharge scheme which is due to change in April 2017."
The trust said meetings were taking place to discuss commissioning intentions and next steps for each service "including what this may mean for staff working in these areas".
In a statement the four greater Nottingham CCGs said: "The CCGs in south Nottinghamshire have undertaken clinical reviews to make a seismic shift in delivery of care closer to home supported by integrated care pathways. The reviews have focused on services currently delivered in 2016-17 by NUH and which fall outside of the tariff payment mechanism.
"The review will ensure that appropriate specifications are in place and that these support the provision of cost effective, evidence based services. The specifications will enable sustainable, safe services to be available for local people in the most clinically appropriate setting as close to home as possible."
Services facing being decommissioned or redesigned
Thirteen services could be decommissioned at NUH:
Stroke rehabilitation service and early discharge scheme
Geriatric day care
Parts of the trust's physiotherapy service
Nottingham back and pain team (incorporating the pain management programme)
Neurological assessment outpatient services
Traumatic brain injury
Community geriatricians
Chronic fatigue syndrome
Healthcare acquired infections
Renal management – advanced kidney care at home for frail patients
Specialist palliative care pre-assessment
Motor neurone disease home visits
Children's orthoptics
Seventeen services could have their model redesigned:
Adult orthoptics
Community paediatrics
Orthotics
Outpatient parenteral antimicrobial therapy
Critical care outreach
Specialist palliative care pre-assessment
Dietetics outpatient service
Pre-operative assessment
ACORDS
Occupational therapy outpatient services
Dialysis home visits
Dietetics TPN
Infection Control Doctor
Clinical psychology
Community hepatitis service
Audiological medicine
Speech and language therapy (outpatient ENT clinic)
James Hopkinson, clinical lead at Nottingham North and East CCG, said the changes would support activity shifting to the community and would reduce costs and improve access for patients.
He said: "An open and robust procurement process will follow, with NUH and other health providers able to tender to provide these services. The ability of providers to evidence how quality care and value for money will be delivered will be considered as part of the tender process.
"With mounting financial pressures, we are looking at new ways of delivering health and social care services that are more cost effective and bring care closer to people's homes."
Source
Information provided to HSJ