Nottingham University Hospitals Trust is to commission an external review into an electronic patient notes system described by the trust chief executive as "not fit for purpose".
Earlier this month, HSJ revealed the backlash from consultants who called the Digital Health Record system at the trust a "disaster" and "unsafe", after it emerged notes were mixed up, incorrectly scanned or not available at all.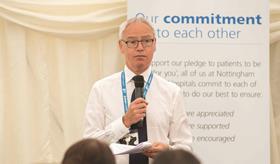 Clinicians described playing "medical charades" with patients to find out why they were attending their clinics because they did not have access to their records.
The DHR system cost the trust more than £14m and involved sending handwritten notes offsite to be scanned and added to a digital viewing system.
In a message to staff last week, outgoing trust chief executive Peter Homa said issues were ongoing. He said: "We remain concerned that the current DHR offering is not fit for purpose for many colleagues, resulting in very considerable daily inconvenience."
He said themes raised with the trust management included:
poor functionality such as indexing and searching for notes;
time consuming and frustrating multiple programmes with multiple log-ins;
variable IT equipment that was not up to the tasks; and
inadequate offsite scanning of notes meaning records are were available for essential work.
Mr Homa said the trust was making "immediate" improvements to the indexing service to separate nursing and medical notes, and changes to allow doctors to identify test results and reduce delays in records being made available.
He added: "We will commission an external review of DHR and the trust's current clinical application strategy (and intend to publish the findings). The trust's senior management team, quality assurance committee and the trust board continue to properly scrutinise the proposed next steps that I have described above and progress against them.
"There are a few things that all staff can do to help improve the process, including ensuring notes are carefully organised before they are scanned and not overwriting barcodes or the code in the bottom right corner of the document."