Nottingham University Hospitals Trust chief executive says STP plans should be reviewed
The trust has faced a lack of bed capacity and a series of health economy black alerts
Working with Sherwood Forest to link more clinical pathways
The new chief executive of Nottingham University Hospitals Trust has said the region's sustainability and transformation partnership should be reviewed following "extraordinary" winter pressures.
In her first interview since starting the role, Tracy Taylor said this winter has exposed the lack of capacity at the trust and in the community to manage the increasing acuity of patients.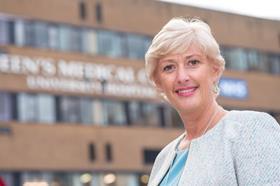 Since the start of 2018, Nottingham University Hospitals Trust has been on black alert three times – twice as part of the Greater Nottingham health economy.
The former chief executive of Birmingham Community Healthcare Foundation Trust, who joined NUH in October, said the trust's partners recognised the need to learn from winter and review the plans for the area.
She said there would be a review of winter to "recalibrate what we need in the system".
According to the region's STP, the trust was set to dispose off 200 beds over two years. However, Ms Taylor said: "That's not going to happen. But if we identified those 200 beds could be sub-acute and rehab in the community… it might be that we wouldn't need them in the hospital."
She said the plan, published in 2016, "was aspiration. It was clearly built on what they believed was the right thing to do at the time. This winter has showed us we need to think more carefully about what that might look like.
"I think the STP will need to be reviewed. If it's not, it just becomes a document on a shelf. In my view, we have to keep learning and changing things based on what happens and what we learn."
On the pressures since the start of the year, Ms Taylor said: "We had a 30 per cent increase in our respiratory admissions and we have done some really detailed modelling of the numbers that we have had in. Our conversion rate from attendance to admission has increased and the ambulance conveyance rate has increased. They are bringing more [people] in and more people are being admitted.
"Where we have struggled is capacity. We planned to cancel 25 per cent of electives but we have cancelled almost all of them since the start of January. We have opened escalation beds and converted two surgical wards into respiratory wards. Internally, we have used all of the capacity we have and more.
"The winter plan was robust but we underestimated the number of people coming through the door and how ill they would be."
She said one issue this winter's pressures had exposed was the need for community services in the region to upskill their workforce to cope with more "sub-acute" patients.
She explained: "What is happening – and we all acknowledge this as a system – is that some of those patients would have gone into a community bed but they are now going home, which is exposing the fact the people we want to put in those beds, the [community providers] are not staffed and geared up for.
"They need to upskill the workforce to manage basically sub-acute patients."
She said that at the end of February the trust's medical beds were running at 100 per cent occupancy and has been over 97 per cent since December.
On finance, she said NUH would meet this year's control total target of an £11m deficit, including sustainability and transformation funding, and the trust was building in extra efficiencies to mitigate any reduction in STF. Next year the trust will aim to deliver a surplus.
As part of efforts to ensure sustainability, Ms Taylor is leading a review of clinical services across the region, including links between NUH and Sherwood Forest Hospitals FT. The organisations had planned to merge last year but this collapsed over the cost of Sherwood's private finance initiative debt and operational pressures.
Ms Taylor said the new strategy would review clinical pathways and some services could move between the two organisations, which could help both become more viable.
A merger was not the primary aim of the plans, she added.
She said: "When people talk about mergers, the first thing people talk about is the organisational change and how we change the board and people get absolutely focused on that. We are starting now at a point where we should have started from before: let's start with clinical pathways and let's build them, and if at some point we say 'why don't we work as one' that's fine. Or we might get to a point where the pathways are working so well between us both sites are viable and a merger isn't necessary.
"One of the things we need to have here is a bit more ambition. We are currently reviewing our strategy to say we want to be a really outstanding teaching hospital that delivers outstanding care that is also a trusted partner in the system.
"NUH has been a bit of an island, as a lot of acute trusts are, and we can't be an island anymore. We need to take some responsibility for the system and I am knocking on open doors when I am saying that."