Michael White on Frank Dobson, former health secretary, who has died at the age of 79.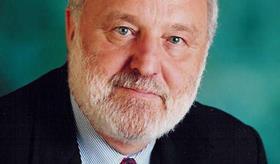 Frank Dobson
Frank Dobson, who has died at the age of 79, may not have been one of the most radically reformist health secretaries, but he was certainly one of the nicest. A jolly man with a warm heart, he was deeply committed to the NHS as the embodiment of democratic socialism in action. "Doctors should treat all their patients as if they were members of their own family," he would say – and meant it.
With his rotund, avuncular appearance and beard, there was an air of Father Christmas about the Labour MP for Holborn and St Pancras South, reinforced by his booming laugh and endless supply of stories and jokes – though not always by their filthy punchlines. He did not drink.
But the humour masked what was sometimes a difficult career, marred by frustration and ending at cabinet level abruptly after only a brief stint. A Labour leftwinger of the old school he was never a natural fit with Tony Blair – instinctively on Gordon Brown's side in most New Labour schisms – but nor did he easily embrace the Bennite left or its Corbyn successors. Dobbo – as he was widely known – described himself as " sane left" and committed to practical remedies for the problems facing working people.
So when Labour won office in 1997 under Blair Dobson – who had held five shadow cabinet posts – was relieved as well as delighted to be made health secretary. It was not a trouble-free posting. To prove his mettle chancellor Brown has committed to maintain inherited Tory spending targets and the huge Brown-Blair boost to NHS spending came only under Alan Milburn, Dobson's heir all too apparent.
Though he has Simon Stevens as a special advisor (before he moved to No 10) Dobson believed that the NHS he inherited needed more money and staff – not the kind of supply side reforms, private finance initiative funding and an infusion of private sector know-how that Blair envisaged and Milburn later imposed – with mixed results. Dobson reversed the Tory purchaser/provider split, Milburn would reinstate it.
But Dobson did introduce significant changes, most importantly the independent National Institute for Clinical Excellence (NICE) to evaluate cost-benefit of drugs and procdures. Much criticised for its caution by emotive tabloids it became a widely admired model. He also introduced the NHS Direct telephone service to ease pressure on GPs and accident and emergency.
Dobson was born into a Labour family in Dunnington, a village on the edge of the railway city of York in 1940, the son and grandson of rail workers. His grandfather was killed by a train and his father died when Frank was six, but he won a Grammar school place and went on to the LSE where he met his wife, Janet – a close family, they had three children – and settled nearby in a flat opposite the British Museum.
Drawn into local housing problems he was elected to Camden council in 1971, later its leader, and was the obvious choice to succeed Lena Jaeger as candidate and MP in 1979. He held the seat until retirement in 2015.
The timing proved unlucky. On the front bench after 1981 he held five major portfolios but did not obtain ministerial office for 18 Thatcher-dominated years – and then only briefly.
Serial backbench rebel and former GLC leader, Ken Livingstone, had plans to become Labour's candidate for elected London mayor. New Labour did not want that and a reluctant Dobson was persuaded that he would be the man to stop him. With help from the party machine, Dobbo won the nomination but Livingstone resolved to run as an independent.
It quickly became clear that, for all his popularity, Dobson was no match for Red Ken. After an undignified plot to replace him with Mo Mowlam he was beaten into third place by Tory, Steve Norris, and never held office again.
But he threw himself into good causes as a "sane left" critic of the government, not least over the Iraq war. In 2015 he and Janet retired to Dunnington where they had always kept a home.
Dobson had been criticised for holding on to his council flat in the constituency but insisted that he had first lived there as a private landlord's sub-tenant and refrained from exercising Mrs Thatcher's right to buy it. It was a typical mixture of principle and practicality. Dobbo never lost his Yorkshire accent.