Oxford and Thames Valley outlines new care model for low and medium secure adult mental health services
Consortium aims to take control of £80m-90m budget from NHS England to run services across five STP and 23 CCG areas
Slice of £1.8m NHS England pilot investment to be used to provide "intensive assessments" of 500 existing secure patients
STRUCTURE: Mental health providers in Oxford and the Thames Valley have set out how they will use their new commissioning powers to create a new care model for secure adult mental health services.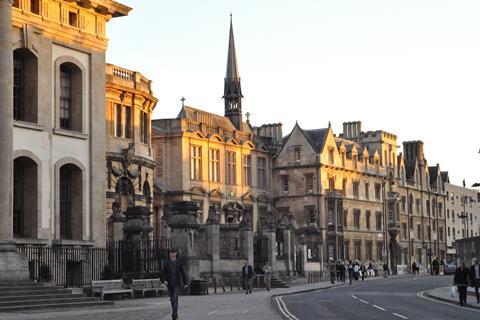 Oxford Health spearheaded a successful bid to receive devolved funding for low and medium secure adult mental health services from NHS England. It is one of six pilot sites nationwide that will receive a share of £1.8m set aside by the national body, which will also be used to redesign tier four children and adolescent mental health services.
Alongside five other providers, it will use the cash injection to bring together teams of clinicians to assess the needs of secure patients across the region. Oxford Health's bid was in collaboration with Berkshire Health Trust, Dorset Healthcare University Foundation Trust, Central and North West London Trust, Solent Trust and Southern Health Foundation Trust.
Dan Leveson, Oxford Health's head of strategy and programmes, said the first stage of the project will be for clinicians carry out "intensive" assessments of secure patients in the region.
He added: "The big commitment, particularly in the first three months, is for a clinical team to go out and do really quite highly intensive clinical assessment work on the cohort of patients.
"The majority of extra funding we have asked for is to pay for clinical time."
The assessment teams will include psychologists, psychiatrists, nurses, occupational therapists and social workers.
Mr Leveson said once the assessments are complete work can begin to look at reducing the length of time patients stay in secure services, as well as bringing patients placed in beds out of the area back into the region.
He added: "Quite often we see people stuck in places or [out of area] because the services haven't been available locally. This [pilot] gives us the opportunity to develop some of the local services."
NHS England announced the six pilot regions last month alongside publication of a document setting out how the NHS will meet the recommendations of the Mental Health Taskforce.
The Oxford and Thames Valley bid focused on low and medium adult secure mental health services across the region, which Mr Leveson said affected around 500 patients across five sustainability and transformation plans and 23 clinical commissioning group areas.
He said the consortium expects to be put in control of a budget of £80m-90m from NHS England, but discussions are ongoing and it is not clear what savings the pilot will make.
Mr Leveson added: "This is being treated similar to the vanguard programme and spread across regions and geographies. We had to think beyond our CCG and current STP area.
"Any money we save will be invested into the development of better care."
As well as a clinical oversight group of representatives from the six trusts, the pilot will be overseen by a chief executive group, which will meet regularly.
Mr Leveson said the devolution of secure services budgets – which have been the responsibility of NHS England since 2013 under the Health Act – would align incentives through greater clinical scrutiny.
He added: "We don't see this as a retaking of power, more a realigning.
"This means we can look at the whole pathway and develop the services we have been talking about."
He also said that as well as working with the charity Response, there was scope to involve more voluntary and independent providers.
Jude Deacon, Oxford Health's head of forensic mental health and prison healthcare services, said any new model could build on Oxfordshire's £175m outcomes based adult mental health contract, which works with charities to deliver care pathways.
Dr Deacon said while discussions over the model for the new bid were at an early stage, the project could include outcomes related to accommodation, employment and education.
She said: "Absolutely the outcomes based model is the way we would like to go, so we can commission packages of care rather than inpatient episodes."