Oxford Health FT and Oxford University named second mental health biomedical research centre
Announcement part of £816m investment in medical research by DH
Cash will be split between 20 research centres with Oxford set to receive £12.8m
A foundation trust has been named the country's second mental health research centre as part of an £800m investment in medical research.
Health secretary Jeremy Hunt has said £816m will be invested in 20 NHS and university biomedical research centres in England.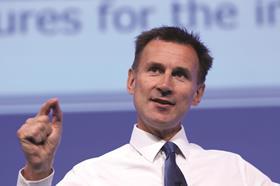 As part of the new investment, Oxford Health FT and Oxford University's joint bid to become a National Institute for Health Research biomedical research centre was accepted.
The partnership will receive £12.8m over five years from the national pot, and makes it only the second mental health and dementia research centre after South London and Maudsley FT.
Health secretary Jeremy Hunt said the cash, which comes from the NIHR fund announced in last November's spending review, will keep the UK at the forefront of medical research.
Speaking exclusively to HSJ, Mr Hunt said the investment will give the NHS the potential to be the "biggest learning organisation" in the world.
He said: "The NHS has the potential to be the biggest learning organisation in the world and the great minds within it need to be supported to achieve excellence.
"Cities from across the country will be given millions of pounds to help shape the future of medicine – and this record investment shows the government's strong resolve to developing scientific breakthroughs.
"We will support endeavours to help patients now and in the future. Our biomedical research centres are leaders in turning laboratory discoveries into cutting edge treatments that ensure patients get the very best care. The research starting today will change the face of medicine tomorrow."
The £816m will be split between different sectors, including:
mental health research funding increasing to £70m;
dementia research investment rising to £45m;
deafness and hearing innovations to receive £15m; and
anti-microbial resistance research rising to £45m.
The Oxford centre will be based in the trust's Warneford Hospital, which also houses the university's department of psychiatry. Its research will include:
using an app to track mood changes to help diagnose and personalise treatments for mood disorders;
treating paranoia using virtual reality simulations; and
treating psychotic disorders using neuroimmunology and delivering therapy online for conditions such as anxiety.
The team of scientists also plans to use genetics, brain imaging and computation techniques to find "biomarkers", which could help predict who might be at risk of developing dementia and in diagnosing the disease early.
Oxford Health chief executive Stuart Bell said: "We're thrilled to host this new NIHR biomedical research centre dedicated to mental health. This award recognises Oxford Health Foundation Trust and the close partnership with Oxford University. Together we will be developing close partnerships with others to bring better treatments to the NHS."
Source
Information shared with HSJ
Source date
14 September 2016