Oxford University Hospitals FT may not receive enough money from CCG to allow it to treat patients within 18 week RTT target
Oxfordshire CCG says "difficult decisions would need to be made" because of "very tight" finances
Simon Stevens previously warned 2018-19 financial outlook may mean waiting time targets could be abolished
OUH has a substantial RTT backlog and cannot reduce it within current "funded activity levels"
A major teaching trust has warned it may "not receive enough money" from its commissioner to stop its patients waiting longer than 18 weeks for treatment in 2018-19.
Oxford University Hospitals Foundation Trust has said its 2018-19 plan to achieve the 18 week referral to treatment national target may not be fully funded because Oxfordshire Clinical Commissioning Group was being forced to make "difficult decisions" over its finances.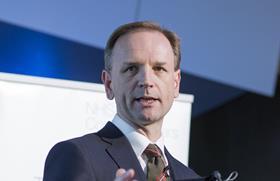 The trust's January board papers revealed that when the CCG reviewed the provider's RTT plan "it was made clear that money would be very tight for Oxfordshire CCG for the next financial year and that difficult decisions would need to be made. It was possible that OUH would not receive enough money to deal with RTT." It added: "This would not be certain until the contract negotiations were concluded."
The warning comes two months after NHS England chief executive Simon Stevens said the government could be forced to abolish waiting time targets because of the current funding outlook.
NHS England is due to publish updated planning guidance for trusts soon, which is expected to address national treatment targets and the additional funding announced by the government in the Budget.
OUH's board papers said that although waiting lists "appear to have stabilised since July 2017" it cannot reduce the number of patients waiting over 18 weeks within its current "funded activity levels".
The trust indicated any further delays in finalising contracts would "increase the eventual cost" of bringing down the waiting list as it would allow the list and patient backlog to continue to grow.
It said funding for RTT from April is dependent upon the Oxfordshire health system agreeing on a financial position for 2018-19, which is also "delayed".
A spokesman for the trust confirmed contract negotiations with the CCG had not concluded but it was hoped they would finish by the end of February.
The trust has been struggling with the RTT targets and has not met the 92 per cent target for almost 18 months. As of October 2017, over 50,000 patients were waiting over 18 weeks, which was a slight improvement on the month before but still left the trust missing the national standard by almost 5 per cent.
Year long waits at the trust increased to 71 patients by October 2017 and it currently has over 500 people waiting more than nine months for treatment.