Oxfordshire CCG recommends midwife-led unit should remain in place at Horton General Hospital 
MP Victoria Prentis labels move "disappointing" but says there are "glimmers of hope" 
Final decision to be made at CCG board meeting next week
Full maternity services will not return to an Oxfordshire hospital for the "foreseeable future" if proposals are given the green light by county health chiefs.
Oxfordshire Clinical Commissioning Group will meet on 26 September to discuss controversial plans for the future of maternity services at the Horton General Hospital in Banbury.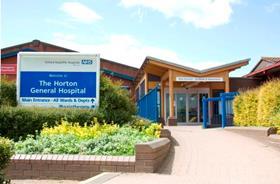 In 2016, Oxford University Hospitals Foundation Trust suspended doctor-led maternity services at the HGH after it proved difficult to attract doctors to work at the unit.
A "temporary" midwife-led service was established, but this led to the closure of the hospital's specialist baby unit and left John Radcliffe Hospital in Headington as the only doctor-led maternity unit in the county.
The move prompted a raft of complaints from health campaigners and politicians concerned over the standard of care provided to expectant mothers and increased demand on already stretched services at JRH.
In 2018, then health secretary Jeremy Hunt called for the decision to be reassessed after the Independent Reconfiguration Panel reviewed the consultation process and advised that more options needed to be considered.
Following further consultation with families who use the service, the CCG is recommending the midwife-led unit should remain in place at the HGH, while an obstetrics service for the county will be provided from JRH.
Health bosses have stressed the changes would be for "the foreseeable future", rather than permanent.
Regular reviews of health demands in the area will then be carried out, according to the CCG's board papers, published ahead of the September meeting.
The CCG's board will also discuss further recommendations, including:
Working with OUH on plans to improve families' experiences of maternity services, including an expansion of midwife-led services at Horton and a dedicated hotline to help women in labour to navigate the JRH site in an emergency;
Actively pursuing the need for "significant capital investment" at the HGH; and
Working with OUH on upgrade plans for HGH, including a "high quality flexible clinical space" that could be used for obstetric services "if circumstances demand".
A 'disappointing' decision
The recommendations have faced backlash from politicians, with Conservative MP for North Oxfordshire Victoria Prentis, labelling the decision "disappointing". She said the JRH is "simply too far" for some women to travel to when they are in labour, adding more can be done to recruit doctors "and reopen a safe service".
Ms Prentis said: "I will work closely with other MPs, councillors and campaign groups to ensure that we take every step we can.
"There are three glimmers of hope. Firstly, it is likely I will be able to chair an annual review, with community involvement, to explore our current health and wellbeing needs to the CCG.
"Secondly, last week I met the CCG to discuss the current situation for new parents in Banbury and surrounding areas. I have asked that the mitigation we were promised four years ago – parking and joined-up notes and so on – be put in place immediately.
"Finally, there is a realisation in the CCG that the Horton General Hospital needs significant investment to be fit for the future. We need to join together locally, working with the Oxford University Hospitals Foundation Trust and make the case for significant investment with the Department of Health and Social Care."
Chair of the Oxfordshire joint health overview scrutiny committee councillor Arash Fatemian said the recommendations are "not in the best interests" of Horton residents.
In a post on Twitter, he said: "I am obviously very disappointed with the CCG board recommendations on maternity.
"Anyone attending any of our Horton HOSC meetings over the past year will be in agreement that this is not a process that has public confidence and the outcome is not one that is in the best interests of Horton catchment or Oxfordshire as suggested by the secretary of state.
"It is apparent and deeply regrettable that the trust has been working towards a pre-determined goal."
He added the Horton joint health overview scrutiny committee will meet on Thursday evening to discuss the next steps ahead of the CCG meeting next week.
An Oxfordshire CCG spokesman said: "The paper and recommendation will be discussed at OCCG's board meeting on 26 September and a decision will be made then.
"The board can be confident that OCCG has fully complied with the secretary of state's and the Independent Reconfiguration Panel's requests which asked for further work to be undertaken before it makes its decision."
Source
Source Date
September 2019