Oxford University Hospitals Foundation Trust to hold extraordinary board meeting to discuss downgrading maternity services at Horton General hospital
Six out of eight obstetric posts at the hospital could remain vacant by autumn
Medical director says "we categorically reject" that service suspension is part of a wider reconfiguration plan
WORKFORCE: A shortage of doctors may lead to an Oxfordshire maternity unit being downgraded next month.
Oxford University Hospitals Foundation Trust, which runs Horton General Hospital, has scheduled an extraordinary meeting of its board of directors on 31 August to decide whether to downgrade the unit to midwife led only.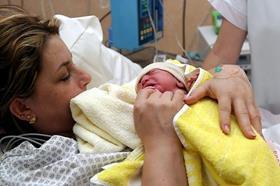 The trust has faced an ongoing recruitment crisis at Horton's maternity unit, having held three recruitment rounds for the middle grade obstetric posts since the start of the financial year. It warns that from the end of September, six out of the eight required doctor's posts may still be vacant.
Trust medical director Tony Berendt told HSJ: "There were some further [job] interviews last week, the outcomes of which are still uncertain so at present it is not possible to say whether we will or will not be in a position to brief the board that we will have… sufficient numbers of middle grade medical staff [by October]."
He said "safety is our number one priority" and if the trust cannot fill the vacancies it will "have no alternative" but to consider suspending doctor led services, adding that "there is an end date if we are able to recruit".
Dr Berendt also said: "We categorically reject any suggestion that this specific issue we are debating is part of a reconfiguration plan."
Horton is one of the smallest NHS obstetric units, with an average of just four births a day. Dr Berendt admitted that it was "fair to say" that the future of the area's maternity services was still in the mix with regards to local sustainability and transformation plans, but any future reconfiguration discussions would follow the "proper process" including consultation.
In a statement, the trust admitted the lack of training opportunities compared to other hospitals and the difficulties shift rotas cause in offering doctors experience at the trust's larger John Radcliffe Hospital meant "Horton [is] proving a less attractive option for would-be employees".
The trust is now offering a premium rate of pay above national recommendations, along with financial assistance for visa applications to help counterbalance the withdrawal of Horton's training accreditation from the Royal College of Obstetrics and Gynaecology in 2013. The hospital has also recently seen an Oxford University led programme end, which had given doctors the opportunity to combine research and clinical practice through clinical research fellow posts.
The trust has ruled out hiring short term locums due to "issues of safety and quality" and instead has been taking steps to add more maternity beds at John Radcliffe Hospital. If obstetric services cease, Horton will continue to offer midwife led maternity services, antenatal and postnatal appointments, and a home birth service.
Source
Information provided to HSJ
Source date
16 August 2016