HSJ today reveals which organisations have made the final of its partnership awards, following a year in which team effort has never been more essential in delivering the best care to NHS patients.
Covid response and assessment units, data improvement systems, and mental health platforms are just some of the projects that made the shortlist for the fourth edition of this important event in our calendar.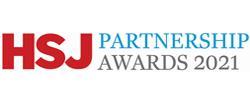 All types of organisations were eligible to enter — whether from the private or public sector, as well as not-for-profit, charities, arm's-length bodies, statutory organisations, royal colleges, industry bodies, and non-government organisations — provided the end user of products or services demonstrated was an NHS organisation.
Categories this year range from education to consultancy, and from tech to procurement.
This year also introduced a special award, the Regional Covid-19 Response Partnership Award.
The finalists will now prepare for the second stage of judging in February. The awards ceremony is scheduled for June 2021, when the winners will be announced and recognised for their worthwhile and lifesaving contributions to the healthcare sector. Read about all the finalists here.