My review of NHS complaints handling called for radical reform but two years on the public remain as unconvinced as ever that their grievances will be dealt with properly, writes Ann Clwyd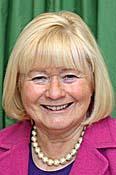 My review of NHS complaints handling, Putting Patients Back in the Picture, published in 2013, drew on several thousand letters I received detailing the often shocking and distressing experiences of those who tried to complain.
They were not and they are not alone. The British Social Attitudes Survey showed dissatisfaction with the NHS at a high, and the number of complaints growing. With 205,000 written complaints in 2014-2015, up by 30,000 on the year before, there are five times as many who do not pursue their complaint.
Fair manner
The review demanded radical reform of the way complaints are handled and learned from. Sadly, more than two years on, it's harder than ever to convince patients the system will treat them fairly if they complain.
It's harder than ever to convince patients the system will treat them fairly if they complain.
Most of all people wanted some independence introduced into the system, feeling themselves marginalised by powerful vested interests. They wanted impartial help in making their complaint, with experts from outside the hospital to investigate the serious ones at least, and clarity about the process to expect.
In particular, they especially wanted an effective appeals system, and a guarantee that lessons would be learned from what had happened to them.
For those seeking help today to make a complaint, the picture is not encouraging. Funding for statutory provision of independent complaints advocacy is not ring-fenced, and one survey of 11 local authority contracts recently showed a shortfall of £820,000 spent on providing the service, against an available sum of £1.8m.
Presumably the £820,000 has gone into councils' general coffers. The service is ill defined of uncertain quality and badged differently in each area – hardly easy for a vulnerable or upset person to locate. Few patients know it exists.
Yet the Local Government Association initially turned down flat my common sense suggestion for a national branding for the service, and the Secretary of State said that "localism" prevented him from insisting on such uniformity!
A sudden u-turn by the LGA in January may signal improvement, although just how many cash-strapped councils will enforce its new branding and advice quality guidelines remains to be seen.
Routine investigation
My recommendation and that of Sir Robert Francis' report after Mid Staffs, was that the independent investigation of serious complaints should be routine. However, this is not happening.
Hospitals are still "marking their own homework". Many hospitals do not yet have clear protocols about how complaints are handled and investigated.
The training and status of complaints staff is also a concern, and as a Parliamentary and Health Service Ombudsman (PHSO) report recently showed, the quality of internal investigations can be alarmingly poor, and does not explain failings, even where serious harm or death occurred.
Many hospitals do not yet have clear protocols about how complaints are handled and investigated
Ironically, perhaps it is the PHSO that remains the object of anger and ridicule by many who want to appeal against those unsatisfactory investigations by hospitals. Although it has increased the number of cases it investigates since 2013, thousands are left dismayed by the PHSO's refusal to consider their case on appeal, and critical of the competence of its investigations where they do take place.
Confidence in the PHSO is now at a very low ebb indeed, with the departure of senior staff under a cloud; a conduct investigation of the PHSO herself and the unusual drafting in of Bill Kirkup to take over serious health investigations. Reform of the Ombudsman system is long overdue.
An independent commissioner
In 2013 I concluded that a strong champion was needed to press for uniformity and higher standards across the sector, an Independent Commissioner for NHS Complaints in fact. I was persuaded against this by officials, and agreed that this role could be performed by the resurgent Care Quality Commission. I wish I had not.
The CQC duly published its report Complaints Matter in 2014 and added complaints handling as a key line of enquiry in its inspection regime. In theory, this was a big step forward, but improvement is hard to discern as yet for the patient, and inspection reports scarcely mention the matter.
The CQC's resources are shrinking, and what systematic focus it can have on complaints handling in future is a concern. And as boundaries between health and social care are blurred, more light, not less, needs to be shone on how to complain and who to. Amidst such change, the CQC should review how well it is ensuring complaints really do "matter".
Have we forgotten Mid Staffs already?
In other developments, following Sir Robert Francis' further report, we've seen the creation of a national guardian, a champion for whistleblowing staff. Full support for that – but it is ironic that there's no parallel appointment of a champion for patients – such as the independent commissioner I recommended.
In conclusion, the patient with a complaint has no louder a voice than was the case two years ago. For all the glossy reports and reviews, the pathways to raising concerns effectively, and capturing the learning from them are unreliable ones.
The government could appoint my Independent Commissioner for Complaints Reform tomorrow. No legislation would be needed.
There can be no substitute for having such an individual, at a high level, similar to the erstwhile Patient Czar, who has the job of driving through change on complaints systems.
And NHS trusts could do far more to improve confidence in the way they handle complaints. They should appoint an independent individual of suitable standing to oversee the quality of the complaints process. The Independent Chairs appointed by councils for Child and Adult Safeguarding Boards provide a model for this.
Both these steps could also be taken in Wales, where progress has been even slower. The recommendations of the highly critical 2014 Evans Review of complaints handling remain on the table.
This needs to be sorted. As the NHS undergoes the most sweeping changes since its foundation, we must ensure a voice for the individual patient to challenge and complain. Have we forgotten Mid Staffs already?
Ann Clwyd is a member of Parliament