CQC indicates governance and staff oversight a concern at independent providers of long-stay mental health and learning disability care
Independent sector saw more CQC actions on safety for MH and LD inpatient services than NHS, in HSJ  analysis of CQC data, in recent years
However, NHS-run services in this sector received more CQC actions for staffing concerns
Regulators have highlighted poor oversight of staffing in some independent sector mental health and learning disability hospitals, after HSJ  analysis found these services had seen more interventions over "safe care" than NHS units.
The Care Quality Commission's new mental health lead said there was a "disparity in performance" between sectors on safety – in part because failures are more common in high-complexity long-stay units, which are often run privately.
HSJ analysed CQC regulatory actions for inpatient MH, LD and autism services for "safe care and treatment", published between June 2017 and last month. We found independent sector providers received 140 – 18 per cent more than 119 for NHS trusts and foundation trusts.
These "safe care and treatment" actions, under the CQC's regulation 12, cover assessment of risks to people's health and safety, and making sure staff have the qualifications, competence, skills and experience to keep people safe. They also cover ensuring that premises and equipment are safe.
It covers many of the high-profile serious concerns over inpatient units in recent months and years, such as residents' safety and human rights being compromised, poorly supervised staff, poor oversight, and inadequate facilities.
Over the same period, on the CQC's regulation relating to staffing numbers – regulation 18 – NHS trusts and foundation trusts have received more published regulatory actions than the independent sector: 86 times compared to 60 in the independent sector (43 per cent more). This regulation says providers must have enough suitably qualified, competent and experienced staff.
The actions are taken when a provider is found to be breaching CQC "fundamental standards" – normally they give a notice requiring improvement, but they also include more serious warnings, and occasionally "urgent conditions" or requirements to cease admissions. They are typically published several months after the action is taken, so HSJ's data does not cover all recent actions.
Drawing conclusions from the number and rate of CQC interventions is difficult because – although the NHS has about double the number of inpatient MH, LD and autism beds – the mix of services is different, with more complex long-stay units often run privately.
However Kevin Cleary, who last month became the CQC's deputy chief inspector and lead for mental health, indicated in response to our analysis there was a particular problem in independent sector units where people stay for long periods.
He told HSJ: "Regardless of where care is being accessed people should be confident that it meets their needs.
"We already know that the model of care where people stay for months or years, located a long away from their friends and family is inherently flawed. By their nature, the quality of care these services provide can change very quickly and they are more at risk of a poor culture developing.
"The fact that this model of care is more likely to be found in the independent sector than the NHS explains some of the disparity in performance [on safety alerts].
"Added to this is the fact that NHS trusts usually have a more developed governance structure in place around training and recruiting staff – something that we frequently find that independent mental health providers aren't doing well."
According to the data, Cygnet Healthcare is the independent provider with the most published actions in these services since June 2017 – 37 notices on safe care and 15 on staffing. It is one of the largest independent providers, although not the largest.
Several, though not all, relate to hospitals previously run by the Danshell Group, which Cygnet took over last year, one of which was Whorlton Hall whereBBC Panorama exposed shocking levels of abuse of patients by staff earlier this year. Three other mental health and learning disability hospitals run by the same group have since been rated "inadequate".
HSJ approached Cygnet for comment.
The comments and analysis add to growing concern about standards in MH and LD hospitals. Last week the CQC, in a letter to all relevant providers, said there was an increased risk of abusive and punitive cultures developing in hospitals where patients stay for long periods away from their community and family.
Meanwhile, NHS England chief executive Simon Stevens indicated last week he thought the "sometimes inappropriate" level of private provision in some areas of MH and LD services should be squeezed, and NHS services should expand.
Safe care and treatment actions by CQC published since June 2017 - NHS and independent sector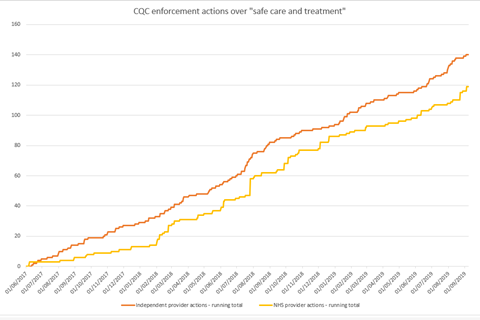 Staffing actions by CQC published since June 2017 - NHS and independent sector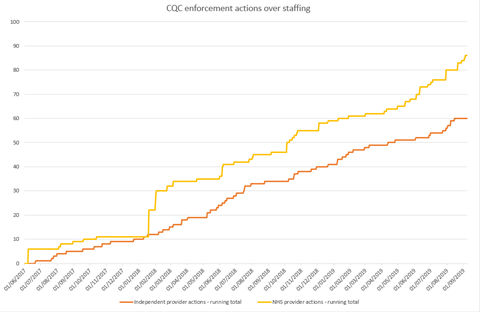 HSJ Transforming Mental Health Summit
The HSJ Transforming Mental Health Summit, taking place at the Hilton Leeds from 28-29 November 2019, unites 120+ senior figures from across the NHS, local authority and wider mental health service delivery landscape to discuss how to realise the visions of the NHS long-term plan and ensure successful local implementation of national priorities.
Held under the Chatham House Rule, attendees will quiz Paul Farmer and other national figures on general policy direction and co-develop solutions to their local challenges with NHS and local government colleagues from across the country. The summit is free to attend for senior NHS and public sector figures.
Register your interest
Source
CQC statement and data
Source Date
11 October 2019