HSJ research finds a number of trusts face fire safety risks
Some trusts relying on hundreds of documents to assess risk
Five trusts with outstanding enforcement notices from fire and rescue services
Hospitals were ordered to carry out checks following Grenfell Tower disaster
NHS trusts face significant fire safety risks, research by HSJ has shown.
The revelations of serious potential threats come as trusts were ordered to carry out urgent fire safety checks in the wake of the Grenfell Tower tragedy.
HSJ submitted a freedom of information request to trusts earlier this year. Some responded by saying they did not have one overarching fire safety risk assessment, instead relying on hundreds of documents – and were therefore unable to answer HSJ's questions without significant effort.
Other providers said there had been no recent board papers relating to fire safety work and its cost, or that the cost of remedial work had not been quantified. Several trusts refused to provide information, claiming that releasing risk assessments would endanger public safety by increasing arson risks.
However, those that did reply revealed a range of fire safety concerns, including:
outstanding enforcement notices;
lengthy maintenance backlogs;
problems with premises built under the private finance initiative; and
issues related to compartmentalisation – which is meant to restrict fires spreading – and is one the failures being explored by the Grenfell Tower public inquiry.
HSJ has identified five trusts with outstanding enforcement notices. These are issued if the local fire and rescue authority finds a serious risk is not being managed. The notice sets out what improvements are needed by when.
Doncaster and Bassetlaw Trust has three outstanding enforcement notices that were issued at the end of last year. In 2015-16, the trust identified a backlog in work to improve fire safety of £9.9m. It has invested £1.5m in the last two financial years with a further £2m planned in 2016-17 and subsequent years.
Homerton University Hospital Foundation Trust has one enforcement notice, related to its neonatal unit. Sheffield Health and Social Care FT also has one, related to the Michael Carlisle Centre, as does North West Anglia FT in relation to Peterborough City Hospital.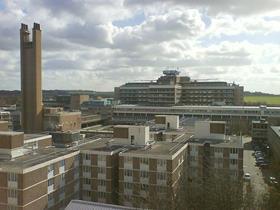 HSJ's research has also identified significant risks that are not subject to intervention by the fire service.
Nottingham University Hospitals Trust's risk register reveals failing to meet its statutory requirement to comply with fire safety regulations is rated at 20 – "likely" to occur and "catastrophic" if it did. The trust has upgraded fire doors and the alarm system, which it said has significantly reduced the risk. However, it said the backlog of actions to be taken will not be eliminated until 2025, even with ringfenced investment of £3m a year. It also lists risks related to its planned preventative maintenance programme and said to be fully compliant with fire regulations will require additional investment.
Cambridge University Hospitals FT received a damning site-wide engineer's report in May 2016 warning of a "lack of progress" in addressing compartmentalisation. The review suggested this might amount to an "intolerable risk". It also said: "The means of escape provisions are inadequate for the occupancy profile of the premises."
Other trusts are facing multimillion pound bills for fire safety work, often related to compartmentalisation. East Kent Hospitals University FT's board was told last year compartmentalisation work could cost £5m. The Royal Free London FT expects to spend more than £4m in this area over the next three financial years.
Recently constructed hospitals – especially those built under PFI – face a range of concerns related to fire safety. Sherwood Forest Hospitals FT said a "significant programme of rectification work" in response to deficiencies identified in the trust's fire risk assessment is being carried out by the PFI contactor.
Cumberland Infirmary, part of North Cumbria University Hospitals FT, is having a fire sprinkler and new alarm system installed and other rectification work has been carried out by the PFI construction firm. Aspects of this work will take several years to complete. The trust's board has also been told there are still "very high" risks around fire safety at West Cumberland Hospital.
Structural issues are only part of the fire safety risks in NHS premises. Trusts have been criticised for the lack of staff training, not holding fire drills, and allowing unsafe practices – such as fire doors being propped open with chairs. A report on Medway FT, prepared last summer, found the trust had not had fire drills or fire warden training for up to three years.
Trusts' responses
A spokeswoman for Doncaster and Bassetlaw said work to deal with the enforcement notices issued to Doncaster Royal Infirmary was ongoing and "compliance against the notices is expected to be achieved by the deadline of Friday 30 June 2017".
She added that the trust had been commended for its work on fire safety by the South Yorkshire fire and rescue service during a recent inspection and further fire improvement works would be undertaken over the next 3-4 years.
Homerton said: "The fire brigade raised issues with the trust relating to fire precaution measures in its notice which was served last year. The majority of the precautionary measures were enacted to the satisfaction of the fire brigade. However, there was one outstanding issue which related to substantial structural work involving dividing the neonatal intensive care unit – and the loft space above – into separate compartments. A detailed plan was drawn up at the end of last year to ensure that the work is carried out in phases so as to minimise disruption to the unit in caring for very ill and premature babies. The contractors are now onsite carrying out the work, which should be completed by the end of November. The trust has been granted an extension to the notice to the end of 2017 to allow the structural work to be completed."
A spokeswoman for Sheffield Health and Social Care said its enforcement notice was issued at the end of March and an action plan to address the points identified has been devised and implemented. All actions were due to be completed by 6 July.
North West Anglia chief executive Stephen Graves said: "We continue to work with Cambridgeshire fire and rescue service to deliver the agreed programme of improvements to fire stopping, to be completed by February 2019. Works on compartmentation are on schedule with one third complete to date and a plan is being developed to accelerate the programme to 100 per cent completion planned by October 2018. Maintenance checks of the Peterborough City Hospital building are carried out weekly, this includes checks to the cladding and no repairs are currently necessary to the exterior walls."
Keith Girling, medical director at Nottingham University Hospitals, said: "The trust has up to date fire risk assessments covering all areas of our hospitals. We are aware of the areas where risks exist and have identified the actions and investment required over coming years to keep our buildings safe. We will invest £3m this year and in subsequent years on fire safety upgrades across the Queen's Medical Centre and City Hospital, including upgrading fire doors and alarm systems. We have a plan to modernise our buildings in the longer term."
A spokesman for Cambridge University Hospitals said: "As part of an ongoing review of our estate we are developing solutions to prevent the spread of fire and an upgrade to the fire alarm system is being rolled out across the site. Meanwhile, the entire site has been fire risk assessed and local evacuation plans have been produced and circulated. Staff in high risk areas, such as those with critically ill patients, have been taken through physical evacuation drills."
East Kent said: "The trust has identified fire compartmentalisation requirements, carried out remedial action at a cost of £930,000 to date and will continue to invest significantly in ongoing work."
A statement from Sherwood Forest said "the majority of the rectification work has now been completed". It added: "The work that has been carried out focused on minor technical adjustments on fire resisting walls where services such as pipework and wiring penetrate. There has been no disruption to patients or services during the work. The work is due to be completed later this year."
Stephen Eames, chief executive at North Cumbria University Hospitals, said: "The trust has been working closely with our PFI partner to ensure that extensive fire prevention measures have been put in place at the Cumberland Infirmary since concerns were identified in 2014. Cumbria fire and rescue service, which has monitored progress and provided support as necessary, has acknowledged that the trust and our PFI partner were working cooperatively to ensure that significant works have been completed."
Tracey Cotterill, finance and business services director and executive lead for fire safety at Medway, said: "As a result of the findings presented in the review last summer, we produced an action plan to address all areas where improvements were needed. Actions have included the appointment of a permanent fire officer into post, fire drills conducted on a regular basis, computerised evacuation exercises for high dependency patient areas and the replacement of outdated fire evacuation equipment."
An NHS Improvement spokesman said: "Fire safety should be an absolute priority for the NHS. That's why we are checking with all NHS providers of care in England that they have identified any risks and are taking any action necessary – both in terms of cladding specifically, but also on fire risks more broadly. So far, only a small number have identified any issues.
"The NHS is a huge and varied group of buildings and facilities, so there is some complexity in this. To address some of the variations involved and make sure all of that estate is as safe as it can be, we are looking at how we can generate more capital investment in the NHS – backed by a commitment from the government to spend more on NHS capital. Spending to remedy any issues to improve fire safety should and will be an absolute priority within this."