Coroner warned NHS England chief executive of risks, following death of woman who could not get intensive care bed
Mary Muldowney died after three hospitals refused to accept her due to a lack of beds
Coroner said action was needed to prevent future deaths
NHS England chief executive Simon Stevens has been warned more patients could die after a woman was denied emergency surgery by three hospitals due to a lack of intensive care beds.
A senior coroner wrote a letter to Mr Stevens urging him to take action to prevent future tragedies, following the death of Mary Muldowney in July.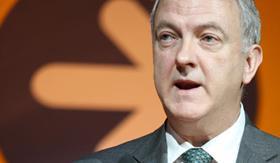 Inner north London coroner Mary Hassell said: "With prompt transfer and surgery, Ms Muldowney would probably have survived."
Responding to the coroner's letter, NHS England medical director Sir Bruce Keogh said the case raised "an important patient safety issue" and accepted "the process of securing a bed did add a delay of just less than two hours" to Ms Muldowney's transfer.
She died aged 57 from a brain haemorrhage after being admitted to East Surrey Hospital, run by Surrey and Sussex Healthcare Trust, on 20 July 2016.
A CT scan just over an hour after she was admitted showed she had bleeding on the brain and needed to be immediately transferred to a neurosurgical unit.
The coroner said medics were in "desperation" to find a hospital to treat Ms Muldowney – but St George's Hospital, Royal Sussex Hospital and King's College Hospital all refused to take her because they lacked an available intensive care bed.
Doctors at East Surrey Hospital used their personal connections to convince the Royal London Hospital to accept a transfer even though it also had no intensive care bed available.
The news emerges amid increasing concern that the NHS does not have sufficient bed capacity. During the second week of January, 45 per cent of trusts declared an alert due to capacity pressures, and the Nuffield Trust has highlighted the decrease in overnight hospital beds of 15,000 since 2010-11.
Ms Hassell said Ms Muldowney woke up three hours after her admission to East Surrey and interacted with her daughter before being transferred to the Royal London and taken to theatre.
The letter added: "Unfortunately, her pupils had become fixed and dilated in the ambulance during transfer to the RLH and surgery did not save her. If she had been transferred promptly, it probably would have."
It said Ms Muldowney "needed surgery immediately, regardless of whether there was an intensive care bed currently available at the same hospital".
The coroner, who recorded a narrative verdict, said in her opinion there was a risk that future deaths would occur unless action was taken and she believed Mr Stevens had "the power to take such action".
She said: "In the light of the gravity of Ms Muldowney's situation, with the only definitive treatment being surgery, she required immediate transfer to a specialist neurosurgical unit, yet she was refused transfer by at least three hospitals who said they had no intensive care beds.
"She could have been transferred, undergone surgery, spent time in recovery, and then an intensive care bed procured, perhaps even by transferring out a non-neurosurgical patient. If such a bed was still unavailable, she could then have been transferred to a different hospital, at least having undergone the time critical clot evacuation and aneurysm clipping."
A copy of the letter was also sent to the chief medical officer, Dame Sally Davies, and the chief executives of the hospitals who refused to accept Ms Muldowney's transfer.
Responding to the letter for NHS England, Sir Bruce said officials at St George's, which is the networked neurosurgical centre for Surrey and Sussex Healthcare, had deemed Ms Muldowney as not needing immediate life saving surgery. Sir Bruce accepted this was "in contrast to the opinions" given by the coroner and the inquest.
Sir Bruce said NHS England would set up a meeting between senior clinicians involved in the case and the neurosurgical team at St George's. This will explore whether factors including "ICU capacity or other clinical behaviours have led to a change in the relationship between referring and receiving middle grade or consultant doctors, which may be exerting an impact on patient safety".
NHS England will also consider whether regional or national investigations and commissioning actions may be needed.
Sir Bruce added: "NHS England proposes that this initial conversation between the two main hospitals involved in this tragic event should then be translated into a broader process." This will include confirming best practice around referral for specialised surgery including patients who need immediate intervention and less urgent transfers to intensive care units, he said.
This work is expected to be complete by June.