More still needs to be done to identify systemic causes of poor care and move away from blaming individual NHS leaders, Sir Robert Francis QC has told HSJ.
Four years after his report into the Mid Staffordshire scandal was published, Sir Robert set out his reflections on reforms carried out since 2013 and highlighted areas where he believes further work is still needed to safeguard patient safety.
This includes taking individual cases of poor care more seriously, a re-examination of the regulation of managers, the system of professional regulation, and the NHS complaints system, which he said was failing "from top to bottom".
He also criticised the "diminution of the nursing voice" saying he believed "nursing and patients were being badly served" by the chief nurse being based with NHS England, and the Royal College of Nursing retaining its trade union role.
CQC inspection regime
Sir Robert said the Care Quality Commission was a new safeguard that provided "backbone" to the existing system. However, he said he was concerned at how the current inspection regime was being carried out.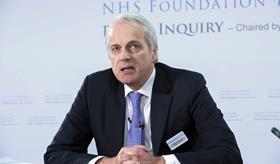 He said: "It is absolutely right to have a regulator who says it as it sees it when things are not right but I do worry about the pattern over the last few years. Every time a report is about to come out that some place requires improvement or is inadequate, you know that is going to happen because the chief executive is suddenly taken ill or is often seconded to NHS Improvement.
"I don't think it is a very healthy climate when every time something is found to be wrong it is thought to be a solution to the problem to chop off the head of the chief executive. Because people come and go with deals, we don't know why they are going or the analysis that lies behind that so there is no accountability. But, there is a level of threat that makes it quite difficult to attract people to do the job or to allow them to do it properly.
"Everything is reduced to blaming an individual for a systemic failure."
Individual cases of poor care
"A gap that still worries me which I am not sure we have filled yet, is the gap between the systems approach, which the CQC is there to do, and the impact of things going wrong on individual patients.
"The CQC doesn't investigate individual cases. The complaints system no one thinks is working properly, so the real individual suffering and harm is left in the vacuum. That is potentially an area where fundamental standards could get more attention."
"I still adhere to the view as I felt throughout Mid Staffordshire, there are individual cases which tell you there is something seriously systemically wrong with the organisation. More of a focus on individual cases whether by the CQC or someone else would not be a bad thing."
Regulation of board level directors
He said problems with the fit and proper person test would not exist under a national system of registration. Sir Robert said: "If you restricted it to director level you wouldn't be talking about a very big register.
"I still feel that there isn't a level playing field between clinical professional qualified directors and others. In the long term that is the answer but in the short term who is going to set up another body? The answer is no one."
Safe staffing
Sir Robert told HSJ there was a "looming workforce crisis that is here now and Brexit is not going to help." He said: "What we need is more nursing. But we are told 'oh well we have got more nurses' – no nursing director I have come across seems to agree with that and they can't find them."
He maintained his view that minimum staffing ratios were not a solution, saying: "I know there is evidence that would support it in some places but this is all about providing for the needs for your patients on any given day and in any given ward and no patient is a rule of thumb."
But he said recent guidance from NHS Improvement was "suspiciously" similar to the work by NICE which was suspended in 2015. "I think the sort of methods being advocated in some of the guidance of aggregating the needs of your patient to produce a number of hours is a good start. I am not saying care hours per patient day is the answer, but it is actually a tool and if you regard it as that and you use it as a method of comparison I don't see any harm in that."
On the nursing voice
"I think nursing is badly served, and patients are badly served by the diminution of the nursing voice. I have yet to see a good reason why there is not a chief nurse equivalent to the chief medical office in the Department of Health. Look at the current state of affairs where the nursing director of NHS Improvement says we haven't got enough nurses and the response to that is we have. When the simple answer is we haven't.
"I think we have had four years of doing it this way, I think it is a good idea for it to be looked at again.
"Nursing is such an absolutely important critical part of the workforce. If you don't have that voice at the heart of government it will be forgotten. The chief nurse is never going to be the whole of the answer, the profession needs a more effective professional voice as opposed to a trade union… particularly at a time when it is becoming more difficult to recruit nurses and challenges how you train them."
On nursing associates
"I think there needs to be some careful definition about what a qualified nurse can do that others should not do. You can say the same about HCAs and registered nurses.
"To have a career structure and entry into the profession is good and professionalises something that otherwise isn't, so I think that is good."
"The danger is you expand those roles beyond what they were set up to do and slowing they take over things which do require the skills of the more trained individual and it's difficult to keep a handle on that."
Registration of HCAs
Sir Robert said it was still his view that healthcare assistants should be subject to some form of registration adding: "I always felt that there needed to be some safeguards around HCAs which registration would provide. The idea, apart from committing some serious criminal offence, that you can just drift from one place to another without anyone knowing much about you I find quite alarming."
"The point about HCAs is that they do an extraordinarily valuable job with very vulnerable people. They do it for very low pay and one of the purposes for registrations and certification was to give them a sense of professionalism."
Reform of professional regulators
"I think the time has come for a bit of a rethink around the function of professional regulation generally. There should be one organisation [replacing the General Medical Council and Nursing and Midwifery Council]. We should have a tribunal service with all healthcare professionals and if necessary in the same cases."
"As a broad principle if we are seeking a just culture what you don't want is a retributive regulator - you want a regulator that understands the system's effect on individuals' behaviour and seeks to do something about that."
Duty of candour
"I think it is time someone did a bit of work on how bodies at the frontline are using this. I still see some pretty egregious examples of the duty of candour not being applied. I think it is fully embraced by most professional staff who get it and think it is a good thing and do their best to live by it. Of itself that must mean patients, if not safer, can have their trust in the NHS affirmed. It is still a work in progress and the problem with any form of cultural change is if you don't carry on in advancing one direction it is going to be regressing, and there is a danger of that given the current pressures."
Whistleblowing
"I do fear that there is still a culture which does not welcome concerns being raised by staff. I think you see that through things like the staff survey, staff do not feel they are listened to.
"The reason I wanted to normalise the raising of concerns was to stop this becoming about a diaspora of people who either have been exiled or exiled themselves from the system. We should concentrate on making it easy for the vast majority – that is my priority. But we mustn't forget injustices. We are only going to get this right if people's everyday concerns can be freely raised."
Francis: Top-down pressure on NHS chiefs 'depressingly familiar'
1

2

3

Currently reading

Francis outlines unfinished business four years after inquiry