A recent HSJ webinar, in association with 18 Week Support, explored the complex issues contributing to patient backlogs and the collaborative and innovative approaches available to trusts seeking extra capacity. Alison Moore reports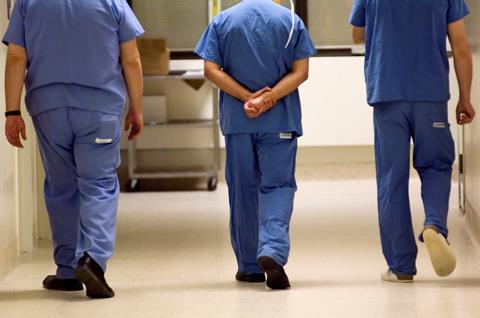 The NHS is facing a massive backlog of patients who need treatment. As it emerges from the worst winter crisis many can recall, when many trusts struggled to maintain elective work at all, it has more than 7 million people on the waiting list and average referral-to-treatment times are still increasing.
In association with

The NHS elective recovery plan has set a target of eliminating all waits of more than a year by March 2025, requiring the NHS to both treat those patients currently waiting for care and those who are referred to it in the coming months. This will create a "hump" of patients who will all need to be treated within the next two years. "Business as usual" is unlikely to be enough to deliver the 30 per cent increase in capacity which NHS England believes is needed.
An HSJ webinar in association with 18 Week Support looked at these issues and sought to offer practical help to trusts struggling with long waiting lists and seeking extra capacity.
The NHS has been making progress on tackling waiting lists but there was still a long way to go in meeting the huge challenge, said Isabel Lawicka, head of policy and analysis at NHS Providers, pointing out that high demand in accident and emergercy and workforce issues, plus a squeezed bed base and lack of capital, all limited what could be done. Ms Lawicka added the problems with waiting lists predated the pandemic, although it had made matters worse. "Trusts are struggling to get these activity levels really up to the ambition being set out," she said.
The delays are frustrating to healthcare professionals as well as patients– especially when they can't get on with the job they want to do, added Andrew Reed, chief executive of the Royal College of Surgeons of England. "Surgeons really want to be able to operate …. to play their part," he said, adding that out of the total 7 million plus waiting list around 1 million were waiting for surgical treatment – mainly orthopaedic, ENT and general surgery. "We do feel that people on elective waiting lists are becoming second class citizens," said Mr Reed.
Surgical hubs for elective work would help make headway on the waiting lists, he added, with workforce also a limiting factor. But use of all available facilities such as weekend lists and independent sector capacity was also important.
Pradip Karanjit, deputy chief operating officer at North West Anglia Foundation Trust, outlined what this had meant for his trust which had seen its waiting list double during the pandemic with the junior doctors' strikes adding to the backlog. The trust had a waiting list of 80,000. More than 5,000 had been waiting for over a year and the trust still had some 78-week waiters.
Given this position, the trust had tried to maximise its own capacity, use the independent sector when appropriate, work closely with other NHS trusts but also keep in touch with patients throughout to ensure it was aware of their health status. "The volume is a problem we are grappling with," said Mr Karanjit.
Navigating Complex Backlog Issues
One of the independent providers the trust has used is 18 Week Support whose director of strategy Charlie Chappatte outlined its approach.
"We have thousands of doctors, nurses and allied health professionals all over the UK whom we form into teams and send into trusts," he said. These were substantive NHS staff who were willing to work shifts at weekends, utilising theatres and facilities in the host trusts at a point when they would otherwise be unused.
"We see much more throughput, we can treat more patients with fewer distractions. The teams are motivated to start on time at 8am. The patients arrive at 8.30am and are on the table at 9am," he added.
Turnaround time between patients was also important in maximising throughput: at surgical hub in the Midlands, the company had been able to reduce this from 25 minutes to between five to seven minutes, he said.
"There's a big opportunity to move the NHS towards a seven day a week service and utilise the capacity already available in trusts," he concluded.
But the backlog presents complex problems including around how to boost surgical productivity but also the need for greater diagnostic capacity and improved patient flow through hospitals. Ms Lawicka pointed out how technological solutions could help – for example, through virtual wards keeping people out of hospital in the first place and telemedicine helping trusts ensure they knew how patients waiting for treatment were doing.
The NHS has traditionally used the independent sector on an ad hoc basis, often spot purchasing operations at times of stress. But the panellists felt there were opportunities for a mutually-beneficial longer-term relationship.
Mr Reed pointed to the increasing capacity in the private sector to cope with sicker patients, such as those who needed high dependency beds. This could mean more patients suitable for treatment in the independent sector.
He suggested that even with increasing numbers of surgical hubs being set up there would still be a need for some work to be done in the independent sector and potentially for NHS teams to be used in the sector. Ensuring trainee surgeons got sufficient experience was important, he added. "In the longer-term if the trainees don't get their numbers [of patients treated] then we are not going to have the workforce to be able to do these operations," he said.
Mr Karanjit also saw collaboration with the private sector as important and called for longer term collaboration.
Finally Mr Chappatte urged trusts to look at their particular situations and try to identify where the bottlenecks were in their patient pathways. For many that might currently be diagnostics but surgical capacity and productivity was also important, he said.
The webinar 'How can trusts find extra capacity to tackle the backlog in elective care?' is now available on demand. Click here to watch.