The Healthcare Safety Investigation Branch has launched two new NHS safety investigations.
The branch, set up by Jeremy Hunt to investigate and provide system-wide learning from errors, has launched enquiries into:
the care for mental health patients who present at emergency departments; and
cases of wrong site surgery.
HSIB, which is based on a similar model to the Air Accident Investigation Branch, has revealed few details about the investigations but will produce interim reports in the coming months.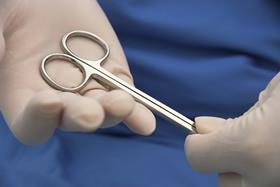 It has now launched three full investigations since it became operational in April this year. The first investigation is looking at the transfer of critically ill patients between hospitals.
Announcing the investigation into mental health care this week, HSIB said it had been made aware of a woman who took her own life after presenting to her GP, ambulance service and a local accident and emergency.
Its statement said: "After a preliminary investigation with the full cooperation of local care providers, HSIB has decided to launch a full investigation. The focus of the HSIB investigation will be on the provision of care to patients who present at emergency departments with mental health problems; specifically, how psychological needs can be recognised and assessed alongside physical symptoms, and how timely access to psychiatric liaison services can improve the management of care and patient safety."
Regarding the other new investigation, HSIB said it was notified by a hospital trust about an incident in June involving a wrong site procedure on a patient.
It said the branch felt "there are significant national learning opportunities" from an investigation.
"The notification raised concerns of checking processes in place – right through from the point the patient is referred to the completion of invasive procedures. HSIB's investigation will focus primarily on the development, design and implementation of safety initiatives and how this interacts with the patient pathway," the statement said.
Last week, the government announced a draft patient safety bill to grant HSIB full independence from the NHS and government, and to create new powers for a "safe space" to allow NHS staff to speak candidly about mistakes without fear. The bill is unlikely to become law until 2019 due to the two year parliamentary session.