Despite malnutrition being linked with high costs and poor outcomes, there is a danger that good nutritional care as a priority is getting lost. Mike Stroud looks at how hospitals can do better.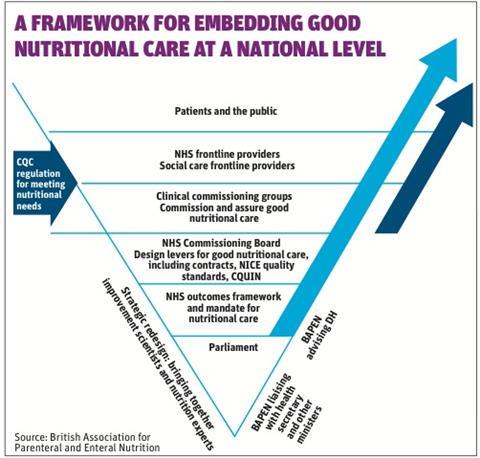 Around one in four hospitals are failing essential standards of nutritional care. This is the finding of the Care Quality Commission's recent spot-checks on 100 hospitals on Outcome 5 – meeting nutritional need.
While the majority of hospitals visited demonstrated increased rates of screening for malnutrition, many were failing to implement care plans and to monitor patients found to be at risk.
For many trusts there is currently no whole system approach in place to deal with nutritional care resulting in a failure to address this fundamental need. Implementing quality nutritional care on every ward, for every patient, on every day will deliver improved health outcomes and patient experience and significant cost reductions.
Malnutrition is common in all UK healthcare settings. It is both a cause and a consequence of disease and it is associated with poor clinical outcomes and vastly increased healthcare costs.
Currently, the focus on malnutrition by the NHS in England is reaching new heights as for the first time there is alignment between Department of Health policy, the priorities of frontline clinicians, the lobbying and work of voluntary organisations such as the Patients Association on behalf of patients and Age UK on behalf of the older population, and regulation undertaken by the CQC.
We are delighted to see this progress after years of calling for such improvements. We particularly welcome the fact that the early reports published by the CQC demonstrate that the majority of hospitals recently spot-checked demonstrated compliance to their essential standards of dignity and nutritional care. This is an encouraging result and many trusts have undertaken an enormous amount of work to improve nutritional care for their patients.
However, the fact that approximately one quarter of these hospitals failed to comply with one or both of these essential CQC standard does highlight that much more work is required to drive the quality improvements that are needed.
We propose a national framework for embedding nutritional care into our NHS, highlighting the current failings in the system. In this article we present some of the pragmatic elements from a new guide we have developed for hospital trusts to help them meet the CQC nutrition standards and to deliver continuous improvements in nutritional care.
The full guide will be available to any executive lead needing to make nutritional improvements in their organisation. BAPEN has also developed a bespoke programme to support trusts who have actually failed the recent CQC inspections on the nutritional outcomes, or for those who are not confident that good nutritional care is widespread across the whole organisation."
Nutrition is a cross-cutting theme as it affects every patient, in every setting, on every day. Hence, the only way to ensure that every patient receives good nutritional care is to embed nutrition into every patient pathway, at every level of our NHS and Social Care system. To achieve this, organisations must ensure that every member of staff working in health and care understands their important contribution to the nutritional care of our patients.
Make no mistake: everyone has a contribution to make - patients, their carers and families, clinical frontline staff across acute, care and community settings, facilities staff, finance teams, executive leaders, and of course national and local commissioners.
The big challenge that we are currently facing is that while everybody now appears to appreciate the importance of nutrition and its positive impact on health outcomes within government, the Department of Health and most strategic health authorities, clusters, care providers and trusts, no-one is taking a lead for malnutrition.
This means that no-one is directly accountable for delivery of improvements in nutritional care and this results in uncoordinated care with good practice at best fragmented and, at worst, non-existent. The failures and gaps in the system come into clear focus when patients are transferred between health care organisations
We believe that, although a significant number of the key stakeholders needed to organise good nutritional care across the nation are working hard to achieve this, there are some key omissions and until nutrition is prioritised at all levels, we will not succeed in achieving the required improvements.
We propose a framework for the implementation of good nutritional care across England which highlights where more work is needed to engage and influence key stakeholders (see figure 1, top of page).
Until recently, there has been little evidence that malnutrition is of interest to the government. It was absent from both their manifestoes and there is little evidence that it is a priority focus for this year. However nutrition has now been included in domain four and domain five of the NHS Outcomes Framework 2011/12 and is included in the quality, innovation, productivity and prevention safe care work stream.
The danger is that nutrition is likely to get lost unless someone takes responsibility for it.
Our first task is therefore to ensure that a senior Minister takes a lead for malnutrition and in doing so is tasked with embedding this clinical priority and public health issue into the agendas and work plan of all appropriate ministers.
BAPEN is calling for Sir David Nicholson to appoint a national nutrition lead to champion good nutritional care in the fight against avoidable malnutrition. This should be mirrored in each NHS trust and BAPEN is writing to all chief executives to ask them to appoint a nutrition lead and BAPEN representative within their trust.
BAPEN has produced a number of reports on the causes, consequences and health economics of malnutrition as well as national surveys on the prevalence of malnutrition and the use of nutritional screening in hospitals, mental health units, care homes and sheltered housing.
The charity has also contributed to national government and NHS strategies, such as the Nutrition Action Plan and the NHS core learning units on nutrition. In 2010 we also launched a toolkit for commissioners and providers, Malnutrition Matters: Meeting Quality Standards in Nutritional Care clarifying all the steps needed to make good nutritional care a reality across all health and social care settings.
In our experience, the trusts most successful at delivering good quality nutritional care have two core elements:
A clear vision for good nutritional care from board to ward
A commitment to focus on system change to embed quality improvements in nutrition across the whole organisation
Achieving this is no easy task. Good nutritional care revolves around four main tenets. Organisations must focus on all four to ensure that they deliver the basic level of nutritional care required to meet the CQC standards.
Malnutrition must be actively identified through screening and assessment
Malnourished individuals and those at risk of malnutrition must have appropriate care pathways
Frontline staff in all care settings must receive appropriate training on the importance of good nutritional care
Organisations must have management structures in place to ensure best nutritional practice
We believe that organisations who are failing to meet the standards set by the CQC are doing so because they are failing to deliver in at least one of these areas. BAPEN's new guide contains materials to support delivery in each area and includes examples of good practice, audits, reports, toolkits and measurement.
BAPEN has also developed a nutrition and hydration driver diagram to highlight the key areas that trusts need to focus on to achieve quality improvements in nutritional care (see figure 2, attached right).
How can trusts organise the delivery of excellent nutritional care?
Before trusts begin to implement further quality improvements in nutrition, it is important that they understand their current strengths and weaknesses. There is often a temptation for organisations to make changes without a true understanding of current gaps in their systems.
In our experience, many trusts have focused on only one key area within nutrition and have worked extremely hard to implement that element, for example, nutrition screening using BAPEN's malnutrition universal screening tool (MUST).
However, trusts have then had a heavy reliance on nurses fulfilling screening in addition to their other duties, with little training and no systems in place to provide support and deliver sustainability. As a result, even if good screening rates are achieved, there are often failings in delivering the care plan that is required for patients identified at risk.
In reality, very few organisations have made sustainable changes to their systems to support reliable screening and the consistent implementation and monitoring of nutritional care plans for every patient on every ward on every day. In addition, many trusts have failed to provide adequate nutrition education for their frontline clinical staff and executive directors, and few have developed optimal management structures to deliver quality improvements in nutritional care at the pace and scale required.
BAPEN's new guide Quality Improvement in Nutritional Care outlines the key steps that need to be taken by trusts to deliver quality nutritional improvements, beginning with some simple baseline audits. Table 1 is a first step audit tool that is included in the guide which, when completed, will assist trusts to identify current gaps and help set priorities.
BAPEN's top ten tips for improving nutritional care
Select a clinical nutrition lead for the trust.
Appoint a senior manager for malnutrition to support the clinical lead and make this person the trust BAPEN representative. They will have access to the association's latest guidance and resources, and responsibility for implementing that guidance across the whole organisation.
Invite patients and their carers to help design nutrition services.
Select a dedicated team to drive quality improvements in nutritional care across the trust.
Use the BAPEN toolkit Malnutrition Matters: meeting quality standards in nutritional care.
Integrate nutritional improvements within existing structures to ensure sustainability.
Make nutrition everyone's business and include a nutrition related objective in key staff members' annual appraisals.
Work through the BAPEN guide Quality Improvements in Nutritional Care as a team and develop a plan to measure improvements.
Plan to scale up and cascade across the whole organisation
Celebrate successes.
Malnutrition does matter and no NHS or social care organisation can claim it is delivering safe, effective, quality care without appropriate nutritional care policies in place.
Making malnutrition matter through the delivery of good nutritional care will deliver:
improvements in clinical outcomes
improvements in patient experience
significant reductions in costs.
Find out more