Royal college survey reveals concerns over workforce gaps, equipment shortages and poor management
Royal College of Anaesthetists president says NHS is at a "tipping point"
GMC also warns of a "state of unease" in medical profession after contract dispute
Anaesthetists working in hospitals across the NHS have said a lack of qualified staff, inadequate facilities and equipment, and poor morale is affecting their ability to provide safe patient care.
More than 5,000 members of the Royal College of Anaesthetists responded to a survey, shared exclusively with the HSJ, saying the problems were affecting patient care.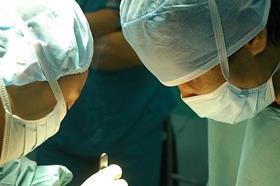 The large response, from almost a third of the college's 17,000 members, showed significant concerns over service provision and lack of resources. College president Liam Brennan said: "Along with workforce issues, demoralisation and spiralling service pressures, we are heading for a tipping point with implications for the welfare of both patients and clinicians."
Anaesthetists are the largest single speciality group of doctors in hospitals and have a critical role in the care of patients before, during and after surgery. More than two-thirds of hospital patients have contact with an anaesthetist at some point on their care pathway.
The research comes as the General Medical Council warned today of widespread "unease" in the medical profession and poor morale, following the dispute between junior doctors and the government.
Of the 5,196 UK based anaesthetists who took part in the research, a third responded to the question "what makes it harder to deliver safe care?" Twenty-five per cent of these cited a lack of medical staff, 6 per cent blamed rota gaps and 5 per cent pointed to underqualified staff. One respondent said: "As a hospital, poor staffing levels do impact on the ability to deliver safe and effective care particularly in areas where there is a heavy reliance on the use of locums and agency staff."
Another said: "Staffing levels are poor, often sickness or absence of one person can put the rota to unsafely low levels of staff with higher risks of mistakes."
Seventeen per cent of respondents said a shortage of beds affected care delivery, including critical care beds, while 6 per cent pointed to a lack of access to medical equipment and drugs.
One doctor said: "My theatres are falling apart, rebuild has been delayed again and again due to cost; tiny anaesthetic rooms, and tiny theatres with no prep rooms."
Twelve per cent of doctors blamed the hospital management. One respondent said: "Management [is] too focused on cost and short term planning – failure to work across teams/departments. Failure to assist medical staff in improving patient and staff conditions. Top down driven management. Lengthy process to initiate change."
Of those who replied to the survey, 23 per cent said they were demoralised, and in that group more than half were consultants.
They described not having enough time to properly assess patients with staff working extra hours to cover gaps. One doctor said a lack of rest and sleep facilities was a safety risk because of sleep deprived staff.
Dr Brennan said: "As highly skilled doctors who manage patients through their surgical journey, we treat patients when they are at their most vulnerable. It is unacceptable that one third of anaesthetists in hospitals report patient care potentially being compromised.
"The results are a robust reflection of the issues that anaesthetists and the NHS face. For example, I have heard reports of anaesthetists being given no option but to have sensitive conversations with patients in corridors or on shared seating due to a lack of appropriately confidential facilities. While clinicians strive to provide the highest possible quality of care for all patients, those patients should have the utmost trust in the services their NHS provides."