Second investigation report into death of Sam Morrish calls for change in culture to improve local NHS investigations
PHSO report says NHS trust failed to "accept that no view other than their own was the right one"
Report follows criticism of PHSO, which took two years to carry out initial investigation
Multiple NHS organisations involved in the avoidable death of a three-year-old boy failed to properly investigate and identify what happened or learn lessons for the future, according to a new report.
The Parliamentary and Health Service Ombudsman said the case of Sam Morrish, who died from sepsis in December 2010, highlighted widespread failures in the way NHS bodies investigate incidents of avoidable harm.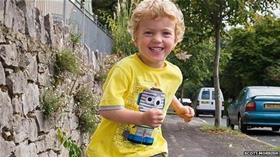 The report, published on Tuesday, said the NHS must improve its culture to ensure local investigations are properly carried out by staff with appropriate skills and training.
It is the second report by the PHSO into Sam's death. He died in December 2010 after his severe sepsis was repeatedly missed by GPs, a nurse adviser at NHS Direct and an out of ours doctors service in Devon.
Sam's parents took him to an out of hours treatment centre before he was rushed to Torbay Hospital. There he was seen by a paediatric registrar who prescribed him antibiotics. These were then not administered for 2-3 hours because of a breakdown of communication. The PHSO concluded doctors and nurses had not acted in line with their professional code of conduct.
Sam died a few hours later on 23 December 2010.
In 2014, the PHSO concluded that Sam would have survived had he received appropriate care and treatment. It agreed to carry out a second investigation after his parents and the health secretary criticised the PHSO for failing to explore why and how the failings occurred.
In its latest report the ombudsman listed a series of errors and found local investigation processes were "not fit for purpose." It said they were "not sufficiently independent, inquisitive, open or transparent, properly focused on learning, or able to span organisational and hierarchical barriers, and they excluded the family and junior staff in the process".
The PHSO also examined its treatment of the complaint by Sam's parents and said it will introduce new standards to improve its handling of cases in future.
Findings in the report include:
Organisations were not competent in the way they investigated the case, with a lack of independence and a failure to coordinate and cooperate with each other.
There was a "fundamental failure", particularly at Torbay and South Devon Foundation Trust, to "accept that no view other than their own was the right one".
The trust did not follow its own policy for investigating serious incidents.
NHS Direct's review was flawed and failed to identify patient safety concerns about a nurse adviser who continued to work unsupervised. She has been suspended by the Nursing and Midwifery Council.
An independent review by an NHS trust chief executive "underestimated" the scale of investigation needed and did not have the "capability or mandate" required.
Sam's father Scott Morrish told HSJ the report was the culmination of more than five years of fighting for answers by him and his wife. "This is just a first step towards actually seeing the changes that have been called for. The key thing we really want to see is the local investigations dealt with once and for all. That means training and empowering investigators," he said.
He added that he did not agree with the notion of a "no blame" culture in the NHS, but instead wanted to see "a just culture" with staff properly held to account for negligent behaviour and others supported when mistakes happen.
Outgoing ombudsman Dame Julie Mellor said: "We hope that this case acts as a wake-up call to drive through much needed improvements in how the NHS investigates complaints about potential avoidable harm or death.
"Our report highlights two key areas for focus. Firstly, the NHS needs to build a culture that gives staff and organisations the confidence to find out if and why something went wrong and learn from it. Secondly, complaints about avoidable harm and death need to be investigated thoroughly, transparently and fairly by the NHS, to make service improvements possible. Sadly the experience of this family is not unique. Time and time again we find that the NHS's investigations are not consistent, reliable or good enough."