Staff say quality problems with disposable aprons issued to trusts are affecting patient care
Supply chiefs turn to government's emergency stock
NHS relies on more than 1.75 million aprons weekly
Problem began after Chinese government closed supplier's factory in pollution crackdown
Patient care is being affected by a "serious" shortage of suitable aprons for NHS staff, after the service's supply chain was hit by a crackdown on pollution by the Chinese government.
The shortage emerged after the closure of a factory, which NHS Supply Chain depended on for disposable aprons, in reaction to a policy switch in Beijing.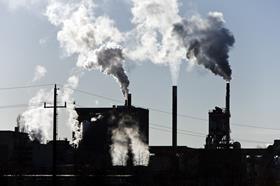 This led to NHS Supply Chain, which buys hospital equipment for the NHS, issuing "substandard" aprons that frequently tear or cannot be tied around the body.
In turn, this has resulted in medical staff spending more time searching for appropriate aprons while patients wait for care.
Such are the quality problems that aprons are now being sourced from the Department of Health and Social Care's emergency stock, which is usually reserved for extreme circumstances such as a pandemic.
The aprons offer staff crucial protection from ill patients and are a key tool against flu infection.
One procurement professional in the NHS, speaking to HSJ on condition of anonymity, said: "This issue has been going on for the last four to five months, and the implications have been widespread and serious.
"Whether it's someone doing procedures or nursing staff providing patient care, they can't afford to be pulling torn aprons off or looking for a right sized one."
Writing on an internal NHS staff website, seen by HSJ, another procurement expert said clinical teams had to make "numerous attempts" to find suitable aprons and warned they believed patients and staff were being placed at risk due to the "poor quality" and lack of improvement in the supply chain.
Another procurement manager said they had received complaint emails from their executive director of nursing and heads of nursing, and added they were "embarrassed" that the issue was not resolved.
The NHS is the world's biggest user of disposable aprons – every week 1.75 million aprons are sold to most trusts by NHS Supply Chain.
Since November 2016, NHS Supply Chain has been relying on one supplier, HPC, for the aprons as it says no other supplier can meet demand.
But HPC's factory in China was one of several thousand plants closed recently because the Chinese government has ordered manufacturers to convert from coal fired power generation to gas power generation in recent years, in a bid to tackle pollution.
According to NHS Supply Chain, HPC has opened three new factories but a supply shortage emerged regardless.
Last week, NHS Supply Chain told trusts it had suspended the sale of one of HPC's aprons until "quality issues are resolved", with trusts instead receiving aprons of higher quality from the emergency stock.
This was welcomed by the Health Care Supply Association, which represents NHS procurement and supply chain staff.
An HCSA spokesman said: "We are pleased that emergency stocks have been released and we look forward to seeing this better quality product in use in the NHS.
"Plastic aprons are a basic consumable product and recent supply challenges show how important it is in a global market to get these things right – our staff and ultimately our patients deserve no less."
NHS Supply Chain is run by DHL, which holds a contract with the NHS Business Services Authority.
NHS Supply Chain and the NHS Business Services Authority said in a statement: "[We] are continuing to work closely with HPC to resolve quality issues with the polymer aprons they supply.
"We are checking all aprons in our supply chain to ensure they meet the necessary quality standards and have asked our customers to return any which do not meet these standards.
"We are jointly reviewing HPC's quality control protocols including pre- and post-shipment quality checks."
They did not say how long the emergency stock would last but added: "We do not expect there will be any shortages in the supply of aprons."
Nigel Watson, head of product procurement knowledge at Polyco Healthline, which is responsible for the HPC brand, said: "These issues have arisen as a result of a change in specification to the previous aprons as well as transitional supply chain issues arising from new factories in China.
"We have urged NHS Supply Chain to monitor customer issues with the new aprons to ensure the specifications they have requested are fit for purpose."