Virginia Mason Medical Centre in Seattle "out of compliance" in 29 areas
American accreditation body found hospital in condition which "poses a threat to patients"
Jeremy Hunt has described Virginia Mason as "perhaps the safest hospital in the world"
Hospital is buddied with five NHS trusts
An American hospital which has been lauded by Jeremy Hunt as "perhaps the safest hospital in the world" has been found to be "out of compliance" in 29 areas by an accreditation body.
Virginia Mason Medical Centre in Seattle, which was brought in to help five NHS trusts last year, was denied full accreditation by the Joint Commission after an inspection in May.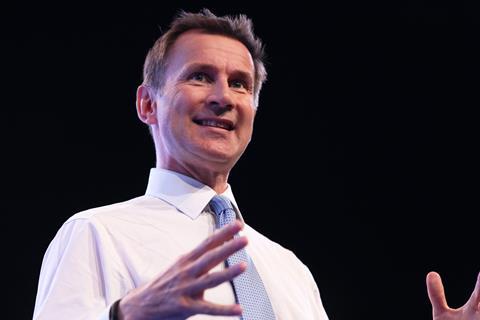 The Joint Commission is an independent, non-profit group responsible for certifying nearly 21,000 health care organisations in the US.
The group carried out a review of Virginia Mason in May, which found the hospital was "out of compliance" against 29 standards including conducting fire drills, maintaining a safe environment, and having an infection prevention and control plan.
After its visit on 20 May, the Joint Commission's initial decision was to issue Virginia Mason with a "preliminary denial of accreditation" because of the "existence at time of survey of a condition, which in the Joint Commission's view, poses a threat to patients or other individuals served".
This was later upgraded to a "contingent accreditation".
In a statement on its website, the hospital said: "Virginia Mason is in the process of renewing its full Joint Commission accreditation.
"We are working to address specific areas of improvement as indicated by an onsite survey conducted by the Joint Commission in late May 2016.
"We are confident all areas of improvement will be addressed to the Joint Commission's satisfaction in the coming weeks."
Mr Hunt has frequently held up Virginia Mason as an exemplar to the NHS for providing safe healthcare.
Last July the health secretary described it as "perhaps the safest hospital in the world" during a speech in which he announced an "international buddying programme" between the hospital and five NHS trusts.
As part of a five year, £12.5m programme Virginia Mason has been providing assistance to Shrewsbury and Telford Hospital Trust; Surrey and Sussex Healthcare Trust; Barking, Havering and Redbridge University Hospitals Trust; Leeds Teaching Hospitals Trust; and University Hospitals of Coventry and Warwickshire Trust.