As the largest NHS staff group, it is vital that nurse numbers provide the best value for money. There are several methods available to ensure this, as Jane Ball and Howard Catton from the RCN explain.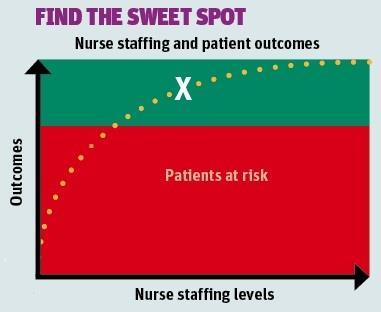 With staffing the largest cost in providing health services and the largest group of staff being nurses, attention is firmly focused on getting the maximum benefit from each pound spent on nurses.
To show how effective workforce planning and redesign can help trusts meet the efficiency saving challenge while maintaining safe and quality care, the Royal College of Nursing has produced guidance on nurse staffing levels. This includes a toolkit for employers.
There is a substantial body of evidence on the relationship between nursing inputs and patient outcomes. In California, lower patient to nurse ratios (resulting from mandated minimum staffing levels) were found to be significantly related to lower patient mortality. And good nursing care lies at the heart of many potential efficiency savings. Ensuring fundamental care needs are well met reduces the costs of avoidable complications such as pressure ulcers, deep vein thrombosis, urinary tract infections, other infections and hospital readmission.
Nonetheless the temptation to look to staffing budgets to release short term savings is great, but greater still can be the consequences of not considering fully the impact of staffing cuts on patient care. In the course of one year, more than 30,000 patient safety incidents reported in England and Wales related to staffing (including lack of suitably trained or skilled staff).
The government has also made clear its commitment to safeguarding quality and patient safety. Trusts are advised to "assess the quality impact of planned changes to workforce or services, and [assure] ourselves that changes are being managed appropriately".
Planning staffing
During boom times, attention is focused on getting staffing comfortably within the green zone (see diagram, above right), ensuring there are sufficient nurses to provide good quality care. The objective of staffing reviews is generally to identify those parts of the service where staffing relative to need falls below this zone, and to bring it into line.
However, there is a real danger that changes made to nurse staffing levels may stray into the red zone; where care is likely to be compromised and patient safety put at risk.
While the goal is to make sure we have enough nurses, equally we cannot afford to have services that have more nurses than needed. There is a point of diminishing return – where the benefit of additional nursing staff tails off. The challenge is to identify the optimal level and mix of nurse staffing – the "sweet spot".
So what is the optimum level? There is no easy answer as individual services, and the staff required to provide them, must be shaped on the basis of patient need. And patients' needs are increasingly complex, as we deal with a faster throughput of patients with greater number and degree of requirements.
There are a range of different factors that influence the total demand for staff and a variety of methods for planning or reviewing staffing, alongside their strengths and weaknesses.
Tools such as AUKUH, NICSM and GOSHman PANDA, are for use in acute settings, while there are relatively few that focus on community settings. But how reliable are the tools and do they produce results consistent with each other? There has been little independent review and, given the importance and cost associated with nurse staffing, the RCN recommends that these systems are subjected to NICE-style scrutiny. Employers have enough challenges in planning and managing their staff without each one expending resources to determine which method to deploy.
But the lack of a single approved approach is not an excuse for inaction. Easy to use methods do exist – and many have been around for decades. Regardless of the specific tools used, there are a number of essential elements to staffing reviews (see box, right).
The key is not to invest all your efforts into a single high cost approach and equally don't rely on a top-down one size fits all approach. Combining a good benchmarking system (that takes account of specialty and location differences) with an assessment of workload (and patient dependency) and taking account of professional judgement, employers can more accurately gauge the workforce needed.
Reviewing profiles
Regular review is crucial, given the changing nature of services. Staffing levels and skill mix need to be reviewed and evaluated to ensure they continue to meet demand effectively. And this is where nursing metrics and benchmarking can play a vital role. We need to be able to judge staffing on the basis of the impact it has on patients.
Increasingly, health providers will be judged by the outcomes of the care they provide. Good quality data on staffing variables and on patient outcomes is therefore the cornerstone to ensuring that staffing levels are safe and effective. Data capture needs to be regular, routine and robust, for example through a scorecard or dashboard system. The results must be fed back and interpreted by local managers so problems can be detected and improvements made.
Trust boards also need to be able to routinely review this data, not just to get assurances about the quality of care provided and identify hotspots, but to be able to make evidence based assessment of the cost-effectiveness of care delivery.
As well as reviewing patient outcomes data, healthcare organisations need to have up to date information on the staffing profile in each area of practice. It is not enough to plan staff through a one-off review, and then hope that it continues to be sufficient to deliver care to an agreed standard. If care is to be delivered safely and cost-effectively (not just cheaply) organisations need to understand and review the characteristics of the staffing in place, alongside data on its effectiveness in terms of service quality and patient outcomes.
Suite of indicators
The RCN has identified a number of indicators that we believe need to be routinely monitored by providers, commissioners/purchasers, and regulators such as the Care Quality Commission (see box, below).
Reviewing these indicators enables healthcare providers to profile staffing and to:
identify internal variation;
monitor changes over time;
review staffing against external benchmarks.
Using this suite of staffing indicators enables boards or commissioners or regulators to assess the strength of their workforce. The indicators can be used to benchmark staffing in a particular place against that of a matched comparator group (for example, using the NHS benchmarking database or similar). In this way they can act as an early warning system – identifying places where staffing is likely to be inadequate and in need of further review.
For example, if the number of staff in post in a particular ward is well below that planned and there is high sickness absence, plus the skill mix is considerably lower than average for that specialty and the nursing hours per patient are relatively low – there is high risk that nurse staffing is inadequate and requires reviewing.
Benchmarking, for example against Audit Commission data, is a potentially powerful tool. However, there are caveats. First, the mean is taken as the reference point (rather than the lowest values). Second, benchmarks should not be looked at in isolation from care quality and patient safety.
For example, the nurse per occupied bed figures used in the nursing workforce planning tool indicates the typical number and mix of nursing staff needed for a specific specialty, based on data collected from wards where the quality of care provided has been assessed.
Reference to some of these staffing measures has been made in reviewing the nursing workforce of a failing trust. For instance, the Healthcare Commission reported on the number of wards with less than 65 per cent registered nurses in their review of staffing at Maidstone and Tunbridge Wells Trust. Similarly Sir George Alberti's 2009 report on the deaths at Mid Staffordshire Foundation Trust referred to the skill mix and number of registered nurses per shift/per patient on wards at the trust.
Unfortunately such data is currently only captured – let alone reported – after a crisis has arisen. Health system regulators do not at present include a set of staffing metrics for assessing compliance with their safe staffing standard.
How can we judge the adequacy of a hospital's workforce if we do not have a common language with which to describe it?
If boards were routinely monitoring their staffing by these simple metrics, and looking at this data alongside their measures of patient outcomes and care quality, such crises might be avoided.
Key Staffing Indicators
Actual nursing staff in post as a proportion of total establishment
To identify current staffing relative to the planned number of nurses required – per ward/unit/catchment area
Proportion of registered nurses as percentage of total nursing staff
The benchmark average on general hospital wards is 65 per cent RNs
Nursing staffing relative to population served

In hospitals this is nurses per occupied bed or per bed

In community this is nurse per head of population (and may include measure of socio-economic need of population)

Nurse staffing relative to patients

- Ratio of the patients per RN (on a day or night shift) provides indicator of actual staffing levels on hospital wards

- Nursing hours per patient day (provides global measure)

- In the community this is typically captured through caseloads

Staff turnover
For example, using data on annual joiners and leavers to provide a stability index (defined as the percentage of staff in the organisation for at least a year). Length of service can be used as a proxy
Sickness absence
Sickness absence rate is calculated by dividing the sum total sickness absence days by the sum total days available per month for each member of staff
Core principles in staffing reviews
Be systematic: use a systematic approach and apply it consistently
Involve staff: involve staff in both the process and outcomes of a review
Triangulate: for example, patient dependency based workload tools should be complemented with professional judgement and benchmark data from matched comparators
Achieve adequate uplift: having identified the nursing staff needed, the establishment itself must be calculated to allow for service delivery times (shift patterns) and staff time away from the service (an "uplift"). The RCN recommends an uplift of 25 per cent is applied
Evaluate: the only way to judge whether the staffing level is optimal is to look at indicators of its sufficiency. This relies on good quality HR data and patient outcomes/quality data being collected, and is used to review and inform services
Review regularly: the Care Quality Commission recommends at least every two to three years