HSJ's fortnightly briefing covering safety, quality, performance and finances in the mental health sector.
In the flood of post-purdah publications NHS England has released its quarter one performance dashboard for mental health, and its findings are underwhelming to say the least.
On several key metrics, national performance appeared to have declined in Q1 of 2019-20 compared to the end of the last financial year – with Improving Access to Psychological Therapies and children's and young people's eating disorder services taking a substantial hit.
In almost every IAPT measure, apart from planned spend, national performance was worse in Q1 of this year compared to the previous year.
A look back over performance on access standards since 2017-18 reveals there has been almost no improvement on either the 6 or 18-week waiting time standards. The target for six-week waits — 75 per cent — is being met. However, there has been little improvement in performance since 2017-18.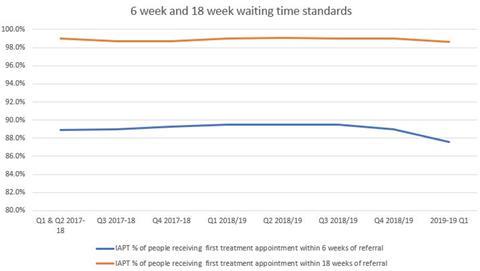 Of course, readers will also be aware of those "hidden waits" within IAPT, recently reported by the BBC, which are being missed by the national standards.
As often happens with targets, the IAPT ones are subject to being gamed, and so in reality are misleading when it comes to measuring access.
For the IAPT standards, the clock on a 6-week wait stops when a patient has their first appointment.
However, this appointment is only an assessment, often over the phone, with the real waits then occurring between this and the second appointment.
Early intervention in psychosis, another flagship Five Year Forward View service, was also found to be lagging, with virtually no increase in 2-week referral performance according to the dashboard, and deterioration on the first quarters of 2017-18 and 2018-19 — although the target of 56 per cent is being met.
NHS England has curiously failed to update figures on how many EIP services currently meet National Institute for Health and Care Excellence level 2 standards – generally thought to be the benchmark.
The most recent figure, 77 per cent, is from 2017-18, so we've no idea whether more services are meeting the standards from well over a year ago.
Performance on children and young people's eating disorder services, another product of the FYFV, dropped from 80 per cent of children being seen within a week for an urgent referral to 77 per cent. The target is to achieve 95 per cent by 2020-21.
There was, however a 1 percentage point increase in those being seen within four weeks — from 82 to 83 per cent — which also has a target of 95 per cent by 2020-21.
Money matters
On the money front, according to the dashboard, 186 clinical commissioning groups out of 191 reported that they planned to meet the national investment standard for mental health in Q1 (which this year requires CCGs to increase their spend on mental heath by more than the increase in their overall allocation). NHS England has said that, despite these initial reports in the dashboard, all CCGs are now predicted to meet the investment standard.
Readers will remember all CCGs have been required this year to carry out an audit on their investment standard claims, amid fears their figures were not telling the true story.
These were all supposed to have been completed by October, but NHS England has pushed this deadline back.
As we head into the new year, learning disabilities and autism are definitely set to be on the public agenda. With this in mind it is worth taking stock of the investment figures.
According to the latest dashboard predictions, 2019-20 will see a total of £2.17bn spent on learning disability and dementia services. Considering the actual spend for 2018-19 across was reported to be £2.1bn, this may be seen as rather underwhelming.
Without the same protection and scrutiny on LD and autism as the mental health budget is now receiving, can we really say these areas are a national priority?