DHSC admits it was wrong to exclude affected adults from the vaccine damage payment scheme
Ministers were not "fully advised" when original decision was made
Ian Cook suffered rare but recognised complication after receiving the Flulaval vaccine, which left him paralysed
The government has conceded it unlawfully prevented adults from receiving compensation if they developed complications after having a seasonal flu vaccine.
HSJ has learned the Department of Health and Social Care wrongly excluded adults from being able to claim compensation under the Vaccine Damage Payments Act 1979.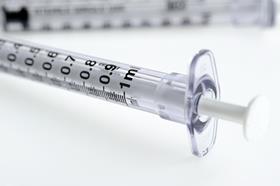 The exclusion has only come to light following a judicial review from a man who was left paralysed after having the vaccine in December 2013.
Ian Cook, aged 68, was vaccinated with Flulaval, made by GlaxoSmithKline, in December 2013 as he was classed as a priority due to having diabetes. Within three weeks he became severely unwell and was diagnosed with chronic inflammatory demyelinating polyneuropathy – a rare neurological condition that causes inflammation of nerves and destruction of the protective sheath covering them.
Mr Cook developed severe paralysis and spent months in hospital unable to move or swallow. He was treated with immunoglobin transfusions, which enabled him to leave hospital but he remains severely disabled and only able to walk short distances. He will require transfusions every eight weeks for the rest of his life.
When he sought to apply for compensation under the act, he learned he was not able to do so because of a decision by the DHSC that compensation for harm caused by the seasonal flu vaccine was only available to children.
His judicial review was successful in forcing a U-turn from the government, whose lawyers wrote to his lawyer earlier this year. The letter said: "Our client concedes that the decision to provide access to the [vaccine damage payment scheme] to those under the age of 18 in respect of the seasonal flu vaccination was taken in breach of the public sector equality duty.
"This concession is made solely on the basis of the admission that the minister at the time was not fully advised as to her ability to make the decision on whether or not to allow over-18s to be brought within the ambit of the scheme."
The DHSC has said the health and social care secretary will reconsider the decision.
Mr Cook, from east Sussex, said: "After the vaccination, my left arm started to feel very strange. It went from bad to worse I got to the point where I was completely disabled. I was completely paralysed. [Now] I can walk a relatively short distance and then I get tired."
His lawyer, Peter Todd of Hodge, Jones & Allen, said: "The purpose of the Vaccine Damage Payment Act 1979 is to support those vaccinated by making a relatively modest compensation payment for a 'one in a million' severe adverse reaction causing severe permanent disablement.
"Given the extreme rarity of such an event, it was difficult to understand the justification for excluding adults from coverage of the compensation scheme. It is welcome the secretary of state has agreed to review the exclusion of adults from coverage by the compensation scheme, and I am confident he will decide to change the law to cover adults in the scheme in future, prompted by Mr Cook's compelling legal challenge."
However, there is no set timetable for the decision to be made. Mr Cook said: "This decision should be taken quickly and they should be getting a move on. My life now is with a chronic condition. I am not fit and able and still quite badly disabled compared to what I was."
A DHSC spokesman said: "A judicial review claim was submitted in December with regards to the vaccine damage payment scheme. The DHSC responded to the claimant and the court on 22 January.
"It is not appropriate for us to comment further whilst this process is ongoing. Meanwhile, the [scheme] continues to run as usual."