GMC chief executive urges government to accelerate reform of professional regulators, including mergers
Medical watchdog is developing a new intelligence system to analyse data and act faster over concerns
Seventy-nine hospitals are being monitored because of concerns over standards of training or safety
Almost 80 hospitals are being monitored by the General Medical Council with "a form of special measures" because of concerns about training for junior doctors and risks to patient safety, its chief executive has told HSJ.
Niall Dickson, who will leave the watchdog at the end of the year, also said the government needed to "get on with" reforming professional regulation. He said it was "inevitable" that some regulatory bodies such as the GMC would have to merge.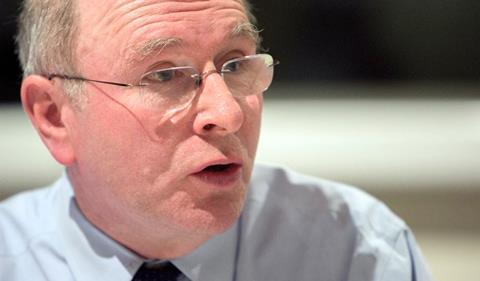 He revealed a plan by the GMC to launch a new, publicly accessible database that would allow it to become more proactive in spotting problems and tackling action with other regulators sooner – a key recommendation from the Mid Staffordshire public inquiry.
Mr Dickson said the GMC was "absolutely different in size, scale ambition and responsibilities" since the Stafford Hospital scandal, adding: "Mid Staffs told us more than anything else that you have to be on the pitch, you can't sit in the tower and say 'well, nobody told us'."
The GMC took on responsibility for the quality of training of junior doctors in 2010, and is taking action where quality of training is poor, he said.
Seventy-nine hospitals – run by 64 trusts – are subject to the GMC's enhanced monitoring process. This is used when a department or hospital has failed to improve after local concerns have been raised, and where the GMC feels the quality of training could affect patient safety or the ability of junior doctors to progress.
Mr Dickson described the process as "a form of special measures". He added: "We hope it doesn't result in trainees being removed but if somewhere under enhanced monitoring is not going to make progress, nothing is happening and the level of support doctors in training receive is inadequate or patients are being put at risk, we have a range of powers including imposing conditions on training environments.
"We won't hesitate to take action and blow the whistle if we are not happy. Educational problems can be the canary down the mine. You need to look very carefully when some of these things start to go wrong and that has been a lesson for all of us."
He said a recent example of this was action the GMC took in relation to concerns about the emergency department at North Middlesex Hospital: "There is now a recognition that we have to collaborate much more closely than we have before. It is fair to say that with North Middlesex a question was raised about whether the education tail was starting to wag the service dog, but nobody was saying that by the end."
On reform of professional regulation, which is also supported by the Nursing and Midwifery Council and the Law Commission, Mr Dickson said: "I've got four words for the government: get on with it.
"Professional regulation needs and deserves fundamental reform. The Law Commission wasn't perfect by any means but it pushed us in the right direction. If we can be a bit more radical that would be good going forward."
Asked what he meant by "radical", he said: "More emphasis on the upstream. Looking at the whole purpose of what is professional regulation trying to do – influencing a system rather than beating it over the head."
He said he wanted to see a smaller number of more robust regulators with greater autonomy, held to account by Parliament.
"It is inevitable there will be mergers," he added.
He said the GMC's ambition was to move to a more risk based form of regulation and it was developing a new data intelligence system, which would be open to the public as well as trusts, to launch later this year.
He said: "A trust will be able to look up their organisation and compare how their trust does in terms of management of their doctors and training. The same with medical schools and the fact you're more likely to have a [fitness to practise] referral if you go to one medical school rather than another.
"We are not pretending we have all the answers but compared with what we were like 10 years ago we are light years ahead."
Mr Dickson said one example already emerging from the data, which the GMC did not yet fully understand, was a correlation between a rise in the number of FTP referrals at a trust and it being put into special measures a few years later by the CQC.
He said: "Over time the proportion of our resources should move upstream. There are significant reforms we have already driven in the FTP process and it will always be essential to have it but we absolutely don't want it to define the organisation and we still have a problem that doctors are too frightened of us and have an exaggerated view of what we do.
"We are here to protect patients, not doctors. Our purpose is really clear: we are not part of the medical establishment, as we might have been seen in the past."
Mr Dickson announced his departure from the GMC after seven years with the regulator earlier this year. He will be replaced by Charlie Massey, the Department of Health's director general for strategy.