Andrew Dillon will step down in March 2020, NICE announces
Played key role in making NICE "internationally respected and world leading"
NICE will advertise for replacement in the autumn
Sir Andrew Dillon will step down as the chief executive of the National Institute for Health and Care Excellence in March 2020 after more than 20 years in the role.
Former hospital chief executive Sir Andrew took the helm of the organisation when it was established in April 1999 and was reappointed when NICE merged with the Health Development Agency in 2005.
NICE, the NHS' cost effectiveness watchdog, said it would advertise for Sir Andrew's replacement during the autumn.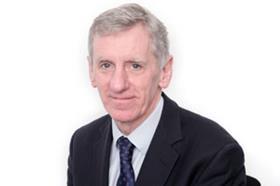 Sir Andrew said it had "been a privilege to lead the organisation through its first two decades" and praised its "significant contribution to improving outcomes for people using the health and care services, and to the efficient use of resources".
NICE chair David Haslam said: "Sir Andrew has carried out this role for 20 enormously successful years, and everyone who knows him – whether in government, the life sciences industry, or in health and social care – is full of admiration for his calm and skillful leadership.
"He was there right at the birth of NICE, and will leave it as an internationally respected, world leading, and hugely influential organisation. That's quite a legacy and I'd like to thank him for his unwavering, dedicated service to NICE for the past 20 years and to the NHS before that."
Sir Andrew joined the NHS as a graduate management trainee in 1975. He went on to be general manager of the Royal Hospital from 1986 to 1991 and then chief executive of St George's Healthcare Trust from 1991 to 1999.
In an HSJ interview in March, Sir Andrew defended the NHS against the charge often levelled at it by pharmaceutical companies that the UK is a very difficult market in which the introduction of innovative medicines took too long.
"I don't see how that can be so when NICE looks at pretty much all of the innovative medicines that get introduced to the NHS and are able to produce positive guidance on 85 per cent of them," he told The Bedpan.
Another major chapter in NICE's more recent history was its role in the debate around safe staffing standards in the wake of the Francis Report prompted by the Mid Staffs scandal.
Sir Andrew said the NICE safe staffing guidance was "as good as anything else that we've done" but that both NICE and its commissioners should have "spent more time thinking about the nature of the customer for the guidance and the potential impact of that guidance on the system".
The decision to examine safe staffing "would have been well served by a longer conversation" examining how the system and individual organisations would be expected to respond if and when NICE produced guidance, he said.
Association of British Pharmaceutical Industry chief executive Mike Thompson said: "He has played a central role in building the credibility of the organisation, insisting on transparent processes, and a continuous dialogue with all stakeholders, recognising that as the science evolves, NICE needs to evolve too.
"As a result of this leadership, there is a consensus across industry about the central role of NICE in assessing all medicines, ensuring that patients have a right to access the treatments they need.
"Hugely respected by all, we thank and congratulate Andrew on his outstanding achievements at NICE, and we wish him all the very best in his future endeavours."
Source Date
22 August 2019