Andy Burnham has been nominated as Labour's candidate to be the first elected mayor of Greater Manchester.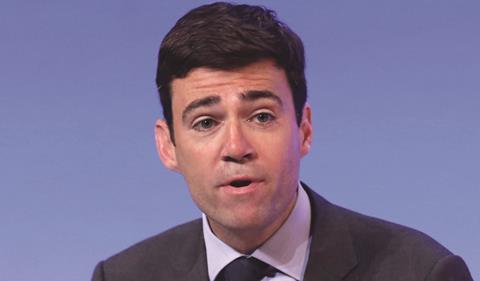 The former health secretary beat interim mayor Tony Lloyd and Bury South MP Ivan Lewis following a vote among party members in the region.
Eight out of the 10 local authorities in Greater Manchester are Labour controlled, meaning Mr Burnham will be considered the favourite to become the region's first elected mayor.
Whoever becomes Greater Manchester's mayor will gain powers over transport, housing and planning, as well as police and fire services, as part of a series of devolution deals the region has negotiated with the government.
The mayor will not have direct control over the region's £6bn health and social care budget, control of which will remain with clinical commissioning groups and the city's borough councils respectively.
However, they are expected to be an influential voice in shaping public policy in the region.
Mr Burnham has pledged to build England's first "National Health and Care Service" by "bringing social care out of the private sector and in to the NHS".
As Health Secretary and shadow health secretary Mr Burnham consistently spoke about the need to improve social care, and better integrate it with the NHS. In 2010 he announced plans to introduce a "national care service", which sought to make entitlements consistent across the country and change how care is funded.
In opposition he developed a policy of "whole person care", aimed at linking the NHS and care systems. Under those proposals council and health commissioners were to be brought together via health and wellbeing boards, which would be responsible for "year of care" budgets reflecting the cost of care across both systems.
More recently he has said he will retain nursing bursaries in Greater Manchester for nurses who agree to work for the NHS in the region for five years after qualifying.
The election will take place on 4 May 2017.
Mr Burnham, currently shadow home secretary, has previously expressed reservations about Greater Manchester's devolution deal.
However, in an interview with The Guardian in May he said it was no longer the case that "Westminster's where it's at" and "that's where everything happens".
He said: "I am thinking that the time has come – Westminster has become a bit of an irrelevance for some people and we really need to change the way politics works."
Mr Burnham also thought Labour should field its "biggest names" in mayoral elections to show the party took devolution seriously.
The Conservatives have yet to name a candidate HSJ's sister title Local Government Chronicle understands Trafford metropolitan borough council's leader Sean Anstee is considering standing. Baroness Williams – a former leader of the same authority and a former local government minister now at the Home Office − could also be approached.
Meanwhile, Labour's mayoral candidate for the elections in the Liverpool City region next year will be announced on Wednesday. Former shadow health minister Luciana Berger is one of the potential candidates.