Sir David Behan is to leave the CQC after six years
The regulator is "transformed" from what it was and is now "respected" by the sector
Sir David warned not acting on staff concerns about care could lead to systemic failings
The goverment must decide what it wants to see for regulation of managers
The next care scandal in the NHS will be caused by a failure to listen to frontline concerns raised by NHS staff, Sir David Behan has warned.
In a wide ranging interview with HSJ, the outgoing chief executive of the Care Quality Commission said the health service had yet to fully develop a system of learning from incidents which risked a systemic failure.
Sir David, who joined the CQC six years ago at a time when the regulator was facing severe criticism, said the watchdog was now "transformed" and that he did believe patients were safer today as a result of the efforts by staff working across health and social care.
Sir David, 62, praised health secretary Jeremy Hunt for his consistent championing of patient safety and for never interfering in the CQC's independence.
He said the government must decide what it wants to see in relation to the regulation of senior managers, adding it was key that leaders had the "capability to do the jobs we are asking them to do".
Sir David, who joined the CQC after working as director general for social care at the Department of Health and Social Care said: "In the first two years in this job I wouldn't be telling the truth to say everyday was enjoyable. The first two years were amongst the most professionally difficult and challenging I have spent in my 40 years.
"I saw my job in 2012 as restoring political, professional and public confidence in the way that CQC operated and I think in 2018 we're respected for our independence, for speaking truth to power. I think we have come an awful long way. Are we the finished article? I think we're on a journey of constant improvement as well."
He added he believed the internal culture of the regulator was now one "not recognisable" to what it was in 2012.
The next care scandal
Asked whether he thought patients were safer now than in 2012, Sir David said he believed they were and this was "as a consequence of the work that people delivering care in hospitals, general practice, in care homes have been doing.
"But there is still more to do. We still have concerns around a safety culture within the NHS. When things go wrong does learning take place? Is that learning shared more broadly? Does that learning lead to improvements? I still feel there is more to do for NHS trusts to have improved systems of learning. So that people don't feel they have to fight the system to have their concerns acknowledged and for change to take place."
Asked what he believed would trigger the next care scandal, Sir David said: "I sincerely hope there isn't another scandal of the systemic failure we saw at Mid Staffs. We have got far more checks and balances than we had in 2012.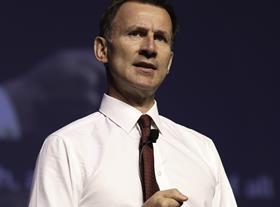 "The risk is people who have concerns and worries about doing their job are not listed to and not listened to continuously so that when care standards begin to slip they are not flagged up and instead of getting improvements and learning about care you get a deterioration and decline in care that becomes systemic."
Sir David praised health and social care secretary Jeremy Hunt saying: "To his absolute credit he has not wavered in that focus on safety and quality during his tenure. What do we want from politicians? We want them to be consistent and I think he has been consistent all through that period.
"The other thing the SOS has done is respect our independence. I am sure there have been times we have produced reports where it has been politically inconvenient… but not once during my six years has it been suggested we should not publish a report."
Regulation of managers
Asked what advice he would offer to NHS leaders dealing with cultural problems in their organisations he said: "It's [to] be clear about your purpose.
"The single most important thing I have done in this job is settle the issue about what is our purpose and why we exist. When I started in 2012, there were as many versions as [to] why we existed as there were conversations I had with people internally and externally. One thing I know is that any organisation that isn't clear about its purpose is going to fail."
On the fit and proper person test, which is currently being reviewed for the government by Tom Kark QC, Sir David said: "Government need to decide what it is they want to see.
"This needs thinking through carefully so the policy ambition doesn't result in unintended consequences. If there is a desire for a register, there needs to be absolute clarity, particularly in contested cases, about how does the matter get determined and who hears both sides of the case. What is the forum that allows that to take place?
"What we need to do is satisfy ourselves that people getting leadership positions in health and care services have the capability to do the job we are asking them to do. That is the essential criteria. As well as capability, do they have the values to lead those public services. This is about how those principles are applied."
He said a register alone "was not necessarily the right way" to deliver those values.
Sir David said he wanted to "remain active and continue to make a contribution.
"I started my career as a social worker because I wanted to make a difference. I wanted a more socially just society, that is the golden thread running through my career. That is what got me out of bed as a 21 year old and it's what gets me out of bed as a 62 year old. I do believe our reports make a contribution.
"I would hope what I am recognised for is for our independence, our fairness and our integrity. And for being on the side of people who use services."