England's chief coroner highlights gap in law over when doctors should report deaths to coroners
Judge says doctors need clear statutory guidance for reporting deaths
Government accepted Francis report's recommendation for national guidance
The chief coroner for England has warned of a gap in the law over when doctors should report deaths to a coroner.
In his annual report, published last week, Judge Mark Lucraft QC, said the government needed to take steps to close "a lacuna in the law" and provide clear statutory guidance on when doctors should report deaths.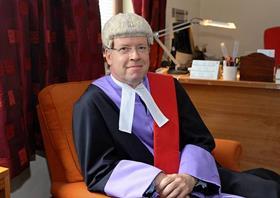 He cited a recommendation from the 2013 Francis report, which called for national guidance and standard methodologies for death certification. The government accepted the recommendation and pledged to publish standard guidance.
There were about 525,000 deaths in England and Wales last year, according to provisional figures, of which 241,211 were reported to coroners.
Judge Lucraft said: "When should a doctor report a death to a coroner? The answer to this question is not definite."
He said notes on the medical cause of death certificate filled in by doctors only encourages them to adopt the criteria used by registrars, adding: "But this is no requirement or instruction. Doctors are not bound by it. There is, therefore, a lacuna in the law. Doctors need clear statutory guidance for reporting deaths to a coroner.
"It would provide a clear framework for referrals to coroners and it would form the basis for better education and training for doctors and regular discussion with the local coroners about when a death should be reported. Doctors would develop greater confidence and accuracy about death certification, registration and referrals."
Clear guidance would help eliminate inconsistency between coroners with some requesting all stillbirths and child deaths are reported, while others have no such policy.
"This is confusing for doctors who travel and work in different parts of the country. It is therefore a matter for Parliament in regulations to decide what types of death should be referred," Judge Lucraft said.
The chief coroner said the new medical examiner service would allow regulations to be made. He also said referrals should be made electronically instead of verbally and said he was working on a recommending a standard reporting form.
He also raised concerns around plans for a new medical examiner service, which is due to come into force no later than April 2019.
He said the primary concern was over the increase in workload as medical examiners would refer the most complex cases to inquests. He said: "Many coroner areas have been neglected for years in the provision of resources."
He added: "The chief coroner has concerns about the costs of the [medical examiner] service and how costs will be met. The scheme is a vital part of the death investigation reforms of the 2009 act and the resource implications need to be carefully considered."
Judge Lucraft also raised concerns about the "ever dwindling availability of pathologists to carry out post-mortem examinations".
He said: "As a result, local pathology services are stretched and coroners are forced to delay releasing the body to a family for burial or cremation. Coroners and medical examiners around the world release bodies within a timescale of approximately 24 hours. In England and Wales many coroners continue to struggle to achieve a three day timescale. In routine cases delays in excess of three days are not acceptable."
The judge also called for more support in funding for families to be legally represented in inquests where other bodies had legal representation.
Updated on 6 December to correct the total number of deaths in 2016.