The Department of Health's director general for strategy and external relations Charlie Massey has been appointed as the new chief executive of the General Medical Council.
He will replace the current chief executive Niall Dickson, who will be stepping down from the role at the end of this year after seven years.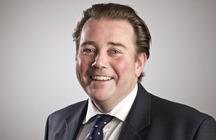 Mr Massey's appointment as chief executive of the GMC is subject to final clearance under the government's business appointment rules.
He was appointed director general at the Department of Health in 2012 and has served across a number of Whitehall departments and in Number 10.
Mr Massey said: "I am delighted to be joining the GMC and look forward to working with the chair, council and staff to build on the reforms of the last decade.

"The GMC is an independent patient safety organisation and I share its ambition to work closely with doctors across all four countries of the UK, at all stages of their training and careers, to promote the highest standards of medical practice."