Stephen Dalton and Stephen Dorrell say national leaders risk derailing STPs by trying to "blackmail" local NHS bodies
Control totals criticised as "old money" strategy
NHS Confederation leaders say STPs are a "cornerstone" of NHS planning and delivery process
National leaders risk derailing the sustainability and transformation planning process by "blackmailing" local NHS bodies using outdated strategies such as control totals, the NHS Confederation has warned.
The confederation's two senior leaders set out their views on issues including the STP process, the NHS's funding requirements and the future direction for the health service's representative body in an exclusive interview with HSJ.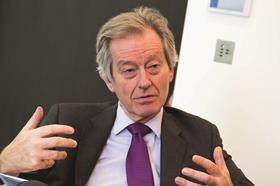 Chair Stephen Dorrell and interim chief executive Stephen Dalton said they strongly supported the STP process – on the proviso that NHS England and NHS Improvement moved away from an overly prescriptive approach on finances.
Mr Dalton said: "I think we need to be careful with things like control totals and the release of transformation money, which is overly associated with the STPs, because people get into understandable, organisational driven arguments about whether their control total is right or not, and feel like there was a kind of implied blackmail.
"If people didn't sign up to their control totals then somehow they would be letting down a whole STP community. Those type of things aren't helpful and feel like old money, when the STP concept, bringing health and care together and getting a more democratic mandate for the health service, is of the future. And I think those two things can clash in a really unhelpful way."
He added that local leaders could "become jaded", and warned that "people don't have to come to the table necessarily".
Mr Dorrell, who is independent chair of the Birmingham and Solihull STP, said the STPs were a "cornerstone… of how the health and care service is being thought about, developed and planned [and] I strongly welcome that".
However, he warned that, despite supporting the "direction of travel", there has to be "change behaviour" both locally and nationally or it would not work.
The former Conservative health secretary stressed repeatedly that the STPs were a "developing story" and that there had to be an acceptance that during this early phase mistakes would be made on both sides.
Mr Dorrell declined to be drawn on whether he thought NHS England chief executive Simon Stevens had too much power, or if he was trying to override the statutory sovereignty afforded to local NHS organisations by the Health and Social Care Act 2012.
He said central agencies were "too often tempted" to act in a way which is too prescriptive, but added: "I think Simon will often feel that he has the illusion of power but not the reality."
Mr Dorrell also said that whether or not the STP process had enough democratic legitimacy was a "value judgement" but "it was the first time for over a quarter of a century that local authorities have had a formal position in the decision making processes of a single health and care system, rather than being consultees about the NHS".
Both Mr Dorrell and Mr Dalton also said more patient and citizen involvement in the process would be welcome.
The pair's comments chime with a similar warning on the use of control totals issued by UCLPartners managing partner Professor Sir David Fish, reported by HSJ last month.
In a letter to NHS Improvement chief executive Jim Mackey, Sir David said: "If regulators rely on, or return to focus on, old style approaches [like control totals] and plans for individual organisations that split partnership working, it goes against the challenging missions of [the Five Year Forward View] and success regimes."
Exclusive: 'Blackmail' over control totals could undermine STPs, leaders warn
1

Currently reading

Exclusive: 'Blackmail' over control totals could undermine STPs, leaders warn

2