CQC chief executive says regulator must change with the NHS to regulate systems
Allowing the CQC to rate systems on collaboration will require legislative change
Senior leadership behaviour and national incentives also need reform, says Sir David Behan
The government should give the Care Quality Commission new powers to inspect and rate local health systems, its outgoing chief executive has told HSJ.
This would help drive greater collaboration between service providers, Sir David Behan said.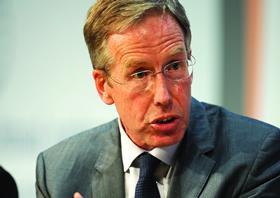 Sir David said there was evidence the CQC's local system reviews of 20 health economies had prompted senior leaders to work together and he said the regulator needed to change as the system itself changed.
Sir David, who will leave the CQC after six years in July, also said the national incentives needed to be reformed as they were still based on rewarding individual providers and their performance.
His comments come ahead of the publication in the summer of the final report following the CQC's reviews of 20 local health systems. The regulator was asked by Jeremy Hunt to review how local areas were working together to deliver care for older patients with long term conditions.
Sir David said the reviews had brought "the oxygen of transparency" to health economies.
He continued: "One of the things we have noticed about doing these local system reviews is when they were announced and the places we were going to review were announced, there is some evidence that at a senior level, organisations started meeting together. The fact people knew we were coming meant people started behaving in a different way.
"Would those systems have done that if we hadn't gone in to do the review? I will never be able to prove it but I think not, quite frankly.
"My argument is: as services out there begin to collaborate more through [sustainability and transformation partnerships and integrated care systems], we need to be able to look at how the system operates, not by being invited to do reviews but in it being part of the routine way we do our business. I think that requires legislative change."
Asked whether the national system could do more to help local systems come together, he said it could.
"We need to reflect on whether all the incentives operate in a way that bring people together to collaborate. Over the past few years, people have been rewarded for doing their bit and doing their bit well. One of the things we will be saying in July is that we need to look at how the system can be incentivised to be much more collaborative," he added.
Sir David declined to comment on specific issues such as payment mechanisms. He said: "It is not for us to design the system, it is for us to assess how the system is operating and for others to say how it works."
He said it was vital providers had a "vision that is common and shared" and he warned that the challenge for system leaders was to make sure they behaved in a way so this was recognised by all levels of the workforce.
"If practitioners at the frontline see people blaming each other for why the system isn't working, they see their leaders doing that and they will mirror that behaviour. That's where people fall through the gaps.
"Leadership is important and leaders have got to set an example by the way they behave. That is critical," he said.
Despite wanting the CQC to be able to review local systems, Sir David also believes it is necessary for the CQC to inspect individual institutions.
"When we began to change our methodology from 2013, one of the things people said to us was stop looking at institutions and start looking at systems, and we said we need to look at institutions because Mid Staffs was as much a story about an institution as it was a system," he said.
Exclusive: CQC needs more powers to rate health systems, says Behan
1

Currently reading

Exclusive: CQC needs more powers to rate health systems, says Behan

2