HSJ has learned several NHS trusts have yet to decide how to tackle risks from cladding similar to that used at Grenfell Tower
One major trauma unit at John Radcliffe Hospital in Oxford is still closed nine months later
Some hopsitals are awaiting more information while increasing fire safety inspections
A major trauma unit is still closed because of concerns over fire safety cladding almost a year after the Grenfell Tower disaster, HSJ has learned.
It is one of several trusts still considering what action to take about cladding on their buildings identified as a fire risk during safety checks last summer.
HSJ has also learned seven NHS trusts have been served with fire enforcement notices with some telling HSJ work is not expected to be completed for another year. Such notices are only issued if there is concern that a serious risk is not being managed.
A major trauma unit adjacent to the John Radcliffe Hospital in Oxford was closed in early August last year after concerns were raised about its cladding and other safety issues. At the time Oxford University Hospitals Foundation Trust suggested the closure could last up to a year.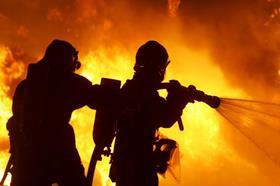 But the trust told HSJ it has not decided what work to carry out and has commissioned architects to give "a clearer idea of the costs and deliverability of any work."
In a statement it said: "Once the engineering design work has been done, the board will consider if the works are affordable and achievable."
Trauma inpatients are being treated in the main hospital, with the ground floor of the trauma unit remaining open for outpatient appointments.
The Oxford trust is just one of several trusts considering what to do with cladding identified by urgent safety checks last summer which were ordered in the wake of the Grenfell Tower blaze which killed 72 people.
Details from trusts identified with at-risk cladding include:
The Royal Wolverhampton Trust has not removed any cladding and plans to wait until reviews of the Grenfell Tower events have been completed. It said its Heart and Lung Centre already has a high standard of fire precautions and that security inspections and staff training have been increased. A waste compound has been moved away from the building.
North Middlesex University Hospital Trust has yet make a decision about removing cladding on a two-storey building. It says it is managing the risk "carefully and effectively" with regular fire service inspections.
At Guy's Hospital in London panels on the cancer centre have been left in place, after the fire service advised the building was safe. Guy's and St Thomas' FT said it was still determining what remedial action is needed. It had originally said the panels would be removed last autumn.
University College London Hospitals FT said its samples had passed follow-up checks after initially failing tests last summer. King's College Hospital FT, Newcastle upon Tyne Hospitals Foundation Trust and Sheffield Children's Hospital FT have all removed small areas of cladding.
Last summer's safety checks revealed that some hospital cladding was made of combustible materials, similar to those thought to be a factor in the spread of the Grenfell Tower fire. But fire safety issues are widespread in the NHS, with many trusts having poor compartmentalisation – making it easier for fires to spread within buildings – and a lack of capital funding affecting trust's ability to carry out improvements such as upgrading fire alarm systems.
Ward closed after fire
A ward at a mental health unit will be closed for several months after a fire left one patient in hospital.
Patients from ward 5 at the Becklin Centre in Leeds, which caters for adult women with complex mental health needs, have been moved to a temporary ward at Lynfield Mount Hospital in Bradford. One was taken to hospital as a precaution after inhaling smoke but was later discharged.
Leeds and York Partnership Foundation Trust said patients in two nearby wards were also moved out but returned once the fire was put out. One patient was taken into police custody after the fire on the 22 May and later bailed to secure accommodation.