The mark of quality for an NHS provider is no longer foundation trust status, but the award of a 'good' or 'outstanding' rating by the Care Quality Commission, the health secretary has said.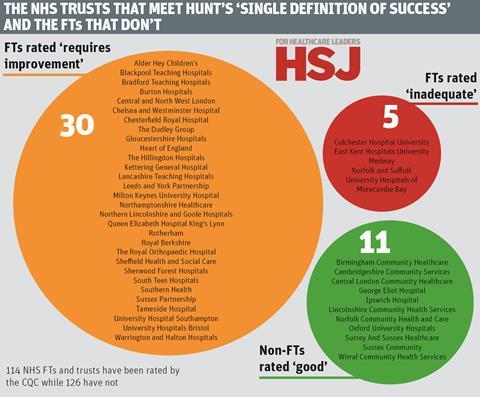 Jeremy Hunt says "good" or "outstanding" CQC rating is the "single definition of success" for providers
Health secretary floats idea of giving FT style freedoms to highly rated trusts
NHS Improvement will be a "nurturing and encouraging" regulator but "robust action" still needed over provider deficits
In an interview with HSJ to mark his completion of three years in the role, Jeremy Hunt said he was making the attainment of one of the CQC's highest ratings the "single definition of success" for NHS providers.
More from the Hunt interview
He also floated the possibility that he could change the law to make the freedoms previously given to FTs available to any trust that had been rated good or outstanding.
The CQC has so far given "good" ratings to 11 trusts that do not have FT status, while it has rated 35 FTs as "inadequate" or "requires improvement" (see diagram above).
Mr Hunt's comments come in the wake of his decision to merge FT regulator Monitor with the NHS Trust Development Authority. The combined organisation will be named NHS Improvement, emphasising its role in raising provider performance.
Asked if past health secretaries had underestimated the amount of support all providers would need when they conceived Monitor as an independent economic regulator, Mr Hunt said: "I think the reality is that as new structures settle down they are tested and you make changes.
"I think we are in a world where the quality imprimatur for a trust has changed from whether you're an FT or not to whether you've got a good or outstanding rating from the CQC.
"That's quite a significant change, but it's an important one, and that was really the response to the Francis report and Mid Staffs.
"So we have very big changes in the [Health Act 2012] which, as they settle down, we begin to notice inevitably bits that can be improved. That's what I think the bringing together of Monitor and the TDA is all about."
Asked if there was now a case for changing the law to make NHS trusts and FTs subject to the same regulatory regime, he said: "I think, if we need it, the legislative tidying up you could do would be to basically give 'good' or 'outstanding' trusts the same freedoms as FTs, and to say actually the autonomy that you get as an FT logically should come if you're a 'good' or 'outstanding' trust."
But Mr Hunt added he was "not persuaded" legislation was needed, as he thought "we can probably streamline the processes so that we're able to… turn 'good' or 'outstanding' trusts into FTs fairly promptly".
He said the desire to make CQC ratings the "single definition of success" for providers was the motivation for his controversial decision to ask the regulator to begin judging providers on efficiency as well as quality.
He told HSJ: "[Former NHS England chief executive Sir] David Nicholson actually made a very good point to me when we were designing the current inspection regime.
"He's not a fan of inspections as a tool for improving quality, so in a way he was quite a good sounding board.
"I said to him, 'what would it take to make this policy work', and he said, 'you have to have a single definition of success in a large complex organisation like the NHS. You have to make sure trusts don't feel there's Monitor's definition of success, and the CQC's definition of success, and then the Department of Health's definition of success'.
"So we are quite simply making the definition of success if you are a 'good' or 'outstanding trust' according to the CQC ratings.
"We're bringing it all together under that umbrella. I think that, in a way, is what being an FT was meant to be about before, but I think we're doing it in a more structured and thorough way now, and a way that has the support of the sector."
Mr Hunt highlighted the change that the creation of NHS Improvement implied for the role of Monitor, saying: "That [new role of] fostering and dissemination of best practice, that nurturing and encouraging, is something that goes beyond the traditional economic regulation."
He hoped that this, coupled with an emphasis on data transparency to drive improvement, would mean "we can move both [Monitor and the TDA] away from the image that they've sometimes had of brow beating people to hit targets".
Asked how this could be squared with the fact that the two organisations have this summer given providers tough new financial targets, he replied: "I never said there won't be any controls imposed by the centre, or any targets.
"I think any large organisation does have to have disciplines and one of the disciplines without which everything starts to fall to pieces is financial discipline. The reality is that a number of the deficits in the NHS today are simply unsustainable, and where people haven't taken robust action they need to take robust action.
"I need to do that because otherwise we won't live within our budget."
Exclusive Hunt interview: CQC ratings have replaced FT status as 'definition of success'
1

Currently reading

Exclusive Hunt interview: CQC ratings have replaced FT status as 'definition of success'

2

3

4

5

6