Irish health service approaches NHS hospitals about "no-deal" Brexit
Includes Great Ormond Street children's hospital
NHSE tells trusts to pass any requests on to them
The Irish health service is attempting to sign up NHS trusts to continue providing healthcare services to Irish citizens in the event of a no-deal Brexit, HSJ has learned.
Following increased fears of the UK crashing out of the European Union without a deal at the end of October, the Health Service Executive of Ireland has sought to put in place individual agreements with NHS hospitals to continue providing services.
Great Ormond Street Hospital has been asked to sign an agreement with the Irish health service to continue providing paediatric transplant services.
An NHS England email has confirmed the details and revealed NHSE has asked other trusts to alert it to any similar requests they receive.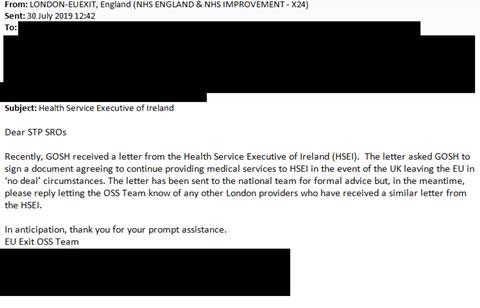 In an email to senior NHS leaders in London, NHS England's EU exit team for the capital said: "Recently, GOSH received a letter from the Health Service Executive of Ireland. The letter asked GOSH to sign a document agreeing to continue providing medical services to HSEI in the event of the UK leaving the EU in 'no-deal' circumstances.
"The letter has been sent to the national team for formal advice but, in the meantime, please reply letting the [EU exit] team know of any other London providers who have received a similar letter from the HSEI."
The Irish health service told HSJ it was putting in place plans to secure healthcare services alongside the existing common travel area agreement between Ireland and the UK, which pre-dated the UK joining the EU and will not be affected by a no-deal Brexit.
The common travel area allows citizens to move freely, live and work in both countries and access public services like healthcare.
The UK and Ireland
The HSE said: "If the UK leaves the EU with or without a deal, it will not affect the CTA.
"Plans for other areas of healthcare are being put in place with UK hospitals. This will make sure that services continue after Brexit. For example, paediatric organ transplant. This includes Great Ormond Street Children's Hospital."
Great Ormond Street Hospital refused to say whether or not it had signed the document or to reveal what advice it had been given. It referred HSJ to the Department of Health and Social Care.
A spokeswoman for the DHSC told HSJ the two governments were continuing to discuss maintaining reciprocal healthcare arrangements.
She added: "Irish healthcare providers and NHS trusts have for decades cooperated on a range of issues, including the referral of patients to other countries for treatment.
"This cooperation has the full support of the UK government and should continue after the UK leaves the EU."
NHSE was approached for comment.
Source
Email and information provided to HSJ