Minister says NHS Improvement represents a "fundamental change from a financial regulator"
Lord Prior says "intelligent transparency" is necessary "in the absence of a market"
Argues for greater investment in primary care and says structural "reorganisation would be a distraction"
Health minister Lord Prior has said the creation of NHS Improvement represents a "fundamental change" from Monitor's role as a financial regulator.
The comments come in an exclusive comment piece today for hsj.co.uk on the government's plan to transform services and deliver the Five Year Forward View, in which he also appears to suggest there is no market in the NHS.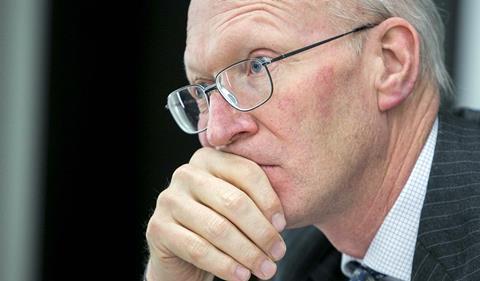 Lord Prior argues NHS costs can be controlled through developments including new models of care, more effective partnerships to share services, and more effective use of capital assets.
He then writes: "The transition from Monitor and the NHS Trust Development Authority to NHS Improvement under the leadership of [chair] Ed Smith and [chief executive] Jim Mackey is crucial to all this.
"It is not just about bringing together the two organisations, it's creating a new organisation with a new purpose: to support providers to improve.
"This represents a fundamental change from a financial regulator, and I hope providers will see a real difference, and feel that NHS Improvement is here to help."
Monitor was created in 2004 as a regulator of foundation trusts' governance and finance. Under the Health Act 2012, it was made the economic regulator for the NHS, with a specific duty to ensure the system was "economic, efficient and effective", and has continued to closely oversee FTs' finances.
When the merger of Monitor and the TDA was announced in June, the Department of Health said: "The closer working between Monitor and TDA will encompass those functions and duties carried out by both organisations."
At present there is expected to be no major change to NHS legislation to create NHS Improvement.
Lord Prior, in the same piece, says work led by Lord Carter which aims to highlight variation in use of resources will lead to standardisation of practice, better use of staff and less dependency on agency workers.
He argues: "In the absence of a market, we need intelligent transparency to reveal variation and drive improvement."
Lord Prior spoke about the "hugely limited" role of the market in healthcare in his previous role as Care Quality Commission chair, in March.
His article also defends the funding settlement given to the NHS in last month's government spending review, as a "settlement that the NHS can live within", and argues that increased efficiency and a shift away from acute services are the main routes to transforming care – highlighting that in recent years spending on primary care has risen slower than overall NHS spend.
In addition, Lord Prior argues new models of care can be achieved without structural "reorganisation". He says: "We must do this within the structures we currently have. Reorganisation would be a distraction. In fact, you need look no further than Manchester to see these structures working, and the early signs from the new models of care are encouraging."
Exclusive: Minister signals 'fundamental change' from financial regulation
1

Currently reading

Exclusive: Minister signals 'fundamental change' from financial regulation

2