'The journal' has been a trusty companion throughout my career but this poignant moment marks the beginning of a new era, too, writes Tara Donnelly
It was 25 years ago that as a brand new NHS manager in my first job, my first boss – a wonderful Scot named Ken Cunningham – asked me what I'd like to do in the future.
I said I thought maybe being CEO like him one day would be interesting. He sagely said that if that was the case I should subscribe to HSJ and I took his advice, so for 25 years it has plopped on the mat and I have, just as reliably, read it.
It's the place I spotted my next role, in what used to be a thick section at the back advertising jobs, and indeed the following two. It's where I learnt what was going on across the service and a great shortcut to finding out good solutions to problems. I would often phone up article authors to find out more to help speed up our work locally. It's where the HSJ Awards launched and I was totally thrilled to win one of the first, with the CEO asking me and the chief nurse to collect the trophy, which meant a huge amount.
Millennial smirk
As a 24 year old walking up to the stage at the National Gallery I genuinely couldn't have been prouder had I been picking up an Oscar. For several years my younger sister was a journalist at HSJ, then news editor, so our commitment to the publication as a family is surely beyond question.
It's what I now recommend to young managers and leaders as a way of keeping up with what is happening in the health service world week to week. Although when I occasionally call it "the journal" I notice I get a politely disguised millennial smirk.
By the time a new cub journalist called Dave West – now HSJ's senior bureau chief – began I was CEO of a busy west London hospital and invited him in to visit the frontline. To Dave's credit he accepted. If you've been watching the incredible Hospital series, he got a mini version of that, going out and about with the site manager and seeing at first hand the stresses and strains of real life in the NHS, for patients and staff.
Looking at him now, I can't helping feeling it must have helped gain insight into what it really is like, the highs and the lows.
But while I'm a little sad to mark the end of an era, we are ready for this
A few years ago an eager youth from the subscriptions department struck up conversation at an HSJ drinks event and enquired "Had I ever thought of subscribing?" With a Queen Victoria stare I advised him of my length of service and that a gold watch might be appropriate recognition. He looked so staggered I suspect he may not have been born when I received my first copy.
Of course, I can't say I agree with every word, but that's part of the point. What I value is that it is authoritative, thought provoking, and not afraid of holding an opinion.
So it is with more than a whiff of nostalgia that this is the final paper copy. But while I'm a little sad to mark the end of an era, we are ready for this. The digital version is terrific, analysis very good, the Twitter coverage speedy, so really the paper version has become a check to make sure there is nothing you've missed in the preceding week.
Next stage of the adventure
I'm a big fan of digital's power to transform healthcare, indeed help run an accelerator to get more of it in front of many more patients more quickly. I'm also an avid user personally, including not visiting a supermarket for 15 years thanks to online grocery shopping, being very fond of my gadgets with a slight hint of geek. Given the push we are all supporting on increased digital healthcare and paperless 2020, for patients and clinicians I think we can all accept that we too can go paperless.
The copy on the mat has become a luxury and we really don't need to fell trees to learn the news and read the insight any more.
It's all about the writing and that's one thing that won't change, even if the medium does. So best of luck for the future HSJ, and let the next stage of the adventure begin! λ
Tara Donnelly is chief executive of the Health Innovation Network. @tara_donnelly1.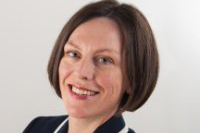 Tara Donnelly is CEO of Health Innovation Network (the academic health science network for South London) and the digital and AI lead chief officer for the AHSN Network